If you're running a business, you would know that it takes up most of your daily routine. Regardless of how you are managing your day, there is always something left at the end. Thus, in the world of business, you should be attentive enough, or there is always the risk of losing customers.
One essential aspect of a business, that requires utmost attention, is the website. While having an adequate website can enhance the online presence of your brand, there are chances of you struggling with the appearance of it altogether.
Although selecting an appropriate theme is not a tough task, you should still have your priorities listed out beforehand. Keeping varied requirements, below-listed are eight best WordPress themes for a small business website for you to consider. Have a read.
1. Agency Elite
Designed by CyberChimps, Agency Elite is a sophisticated one-page WordPress theme that comes with smooth navigation. Perfect for classy and elegant websites, this theme can be selected if you are working in software, corporate, IT, service, media, or small business industry.
Without the prerequisite of coding, you can develop an alluring website with this theme. This pre-designed one-page template supports several elements, including slider hero area, projects section, about section, testimonial section, services section, team section, contact section, and recent posts section.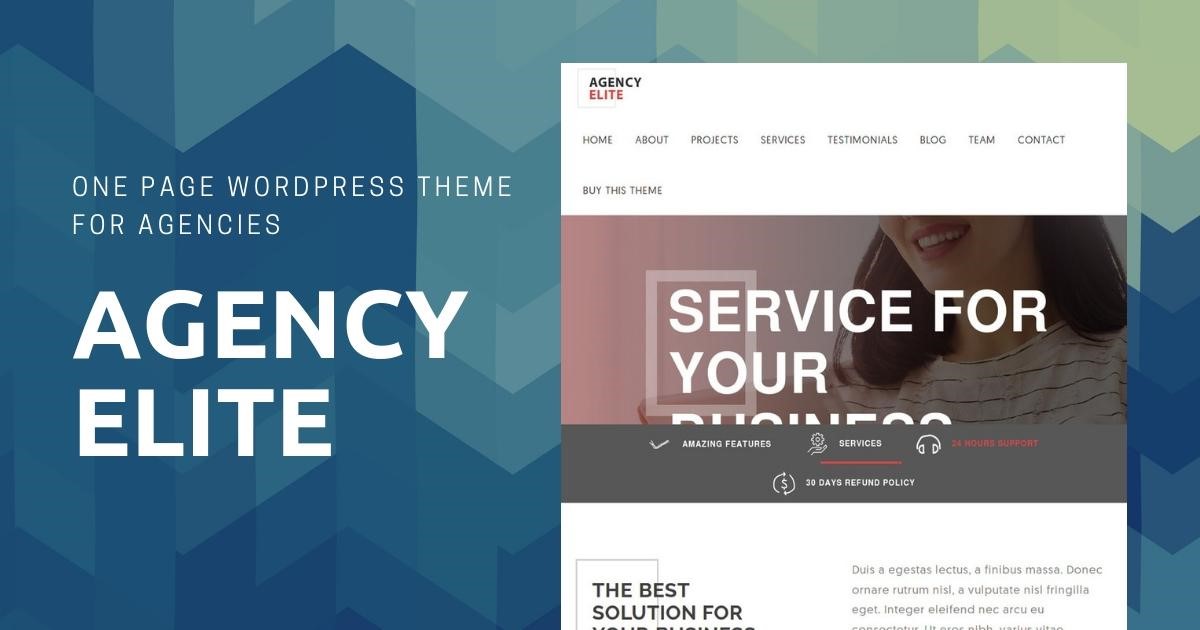 Although Agency Elite has an already designed homepage, however, you even have the freedom to customize it as per your own requirements. Upon activating the home page, you will get to view the layouts as shown in the demo. However, you can edit every section and can even change their sequence easily.
2. Solome
If you are a newbie and looking for a perfect startup website theme, then this is the one to rely upon. This one-page WordPress theme can make the process of understanding your brand easier for your audience as they wouldn't have to hop from one page to another.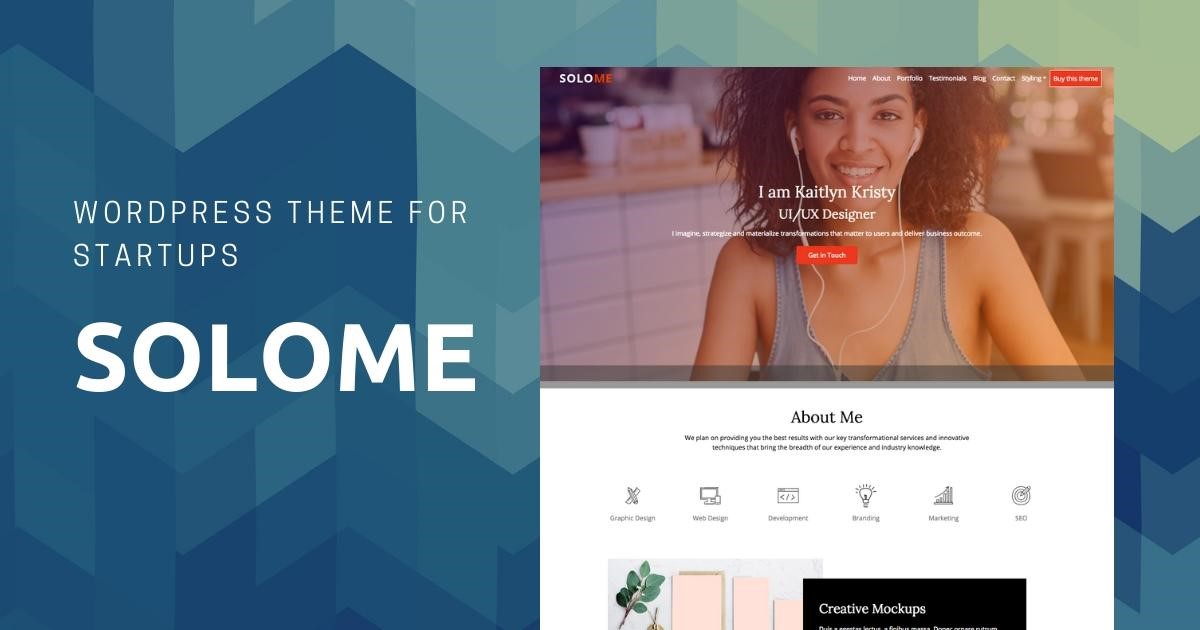 Coming with a pre-crafted homepage, Solome is a responsive and mobile friendly theme. Hence, you would not have to face troubles even if you are trying to build a website specifically for mobile users. As far as the customization is concerned, you have the liberty to do whatever you please.
You can edit sections and can even style the theme as per the appearance of your brand. Furthermore, the best part about this theme is that it is even compatible with different plugins. Therefore, you can surely do a lot of things with this one.
3. Brito
These days, trends are constantly evolving. And, making your website adequate as per your audiences' expectations is quite important. Thus, here is another one-page WordPress theme that can help you build an effective structure to showcase your products or services.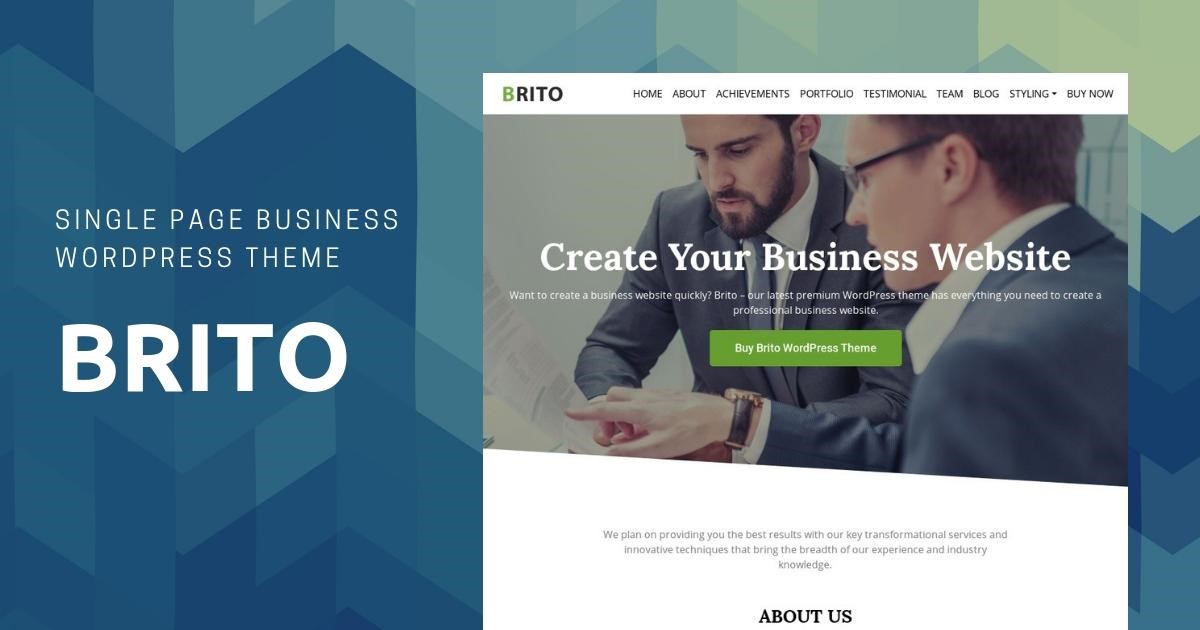 With Brito, presenting your brand to the audience will become nothing less than intriguing, logical, and efficient. This pre-designed template is competent enough to support several elements with ease.
Right from an attractive hero banner to convincing information on the brand, there is a lot that you can present. Not just that, but you can even add sectors like achievements, call-to-action, portfolio, testimonial, team sections, and more.
4. Corpora
Another enchanting one-page WordPress theme is Corpora. This one is perfect for tech companies, especially those who are dealing in technology, design, creative, startups, and small businesses industries.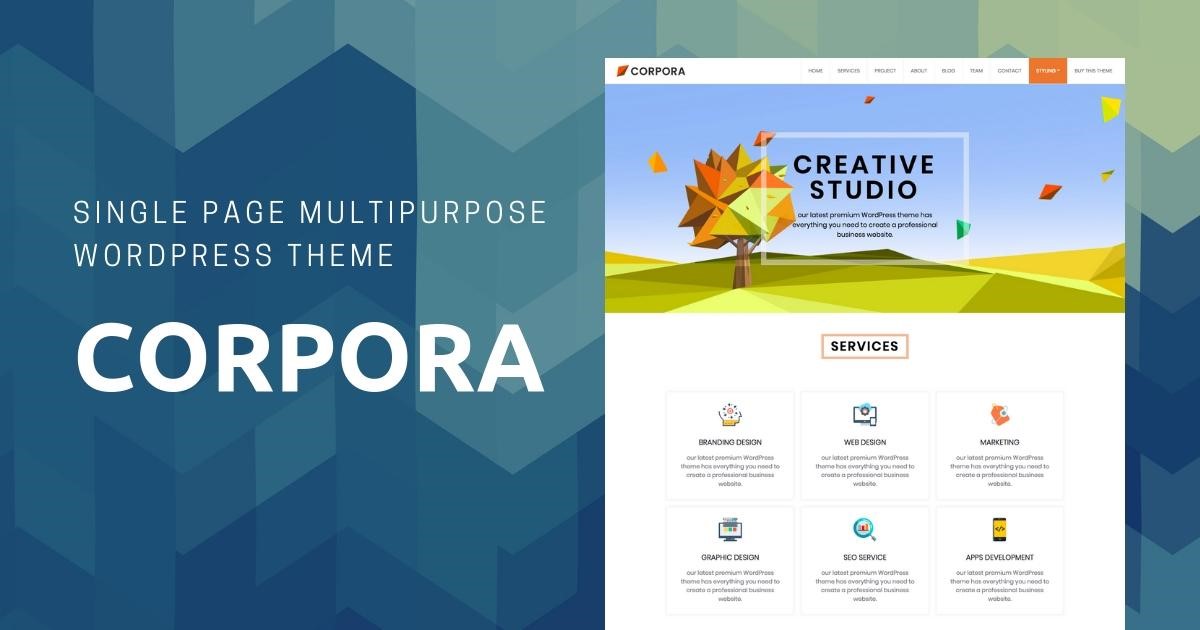 The homepage of this theme has been designed with Elementor Page Builder. Hence, you can use the same to add more web pages to the website. Not just it supports several appropriate elements but is also responsive as well as mobile friendly.
Another good feature of this WordPress theme is that it is compatible with several plugins, including Contact Form 7, Elementor Page Builder, and more. And then, installing this theme is easy as well. So, all in all, Corpora will make website building process a plain-sailing.
5. Sentient
If you are not really looking for a one-page website, then Sentient is the theme you should be opting for. Being a multipage WordPress theme, this theme can help you build an attractive website to display your products or services.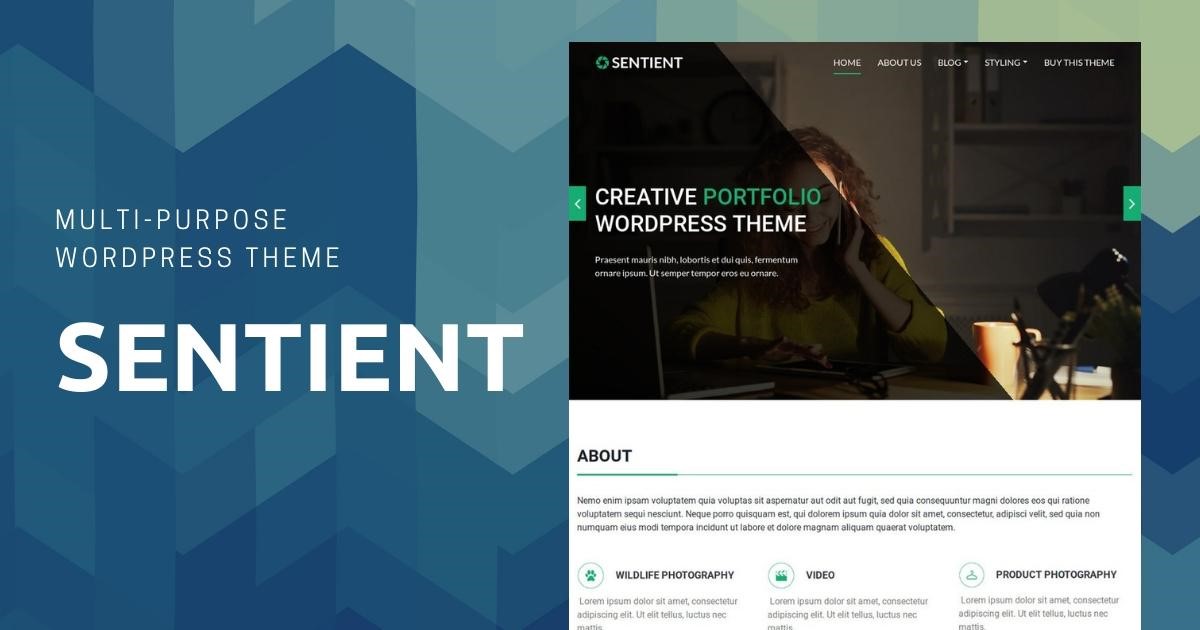 Not just this theme comes with a clean and neat interface, but also offers a responsive design. On top of that, there are several customization options that Sentient provides, such as typography, fonts, custom logo, and much more.
Apart from some basic sections, there is something extra that this theme provides, such as animated stats section, footer section, introductory text section, and much more.
6. Solitair
Moving forward, Solitair is another multipurpose and single page WordPress theme. It has got bold and bright colors to enhance the elements present on your website. In this way, you can surely make your brand a grand deal.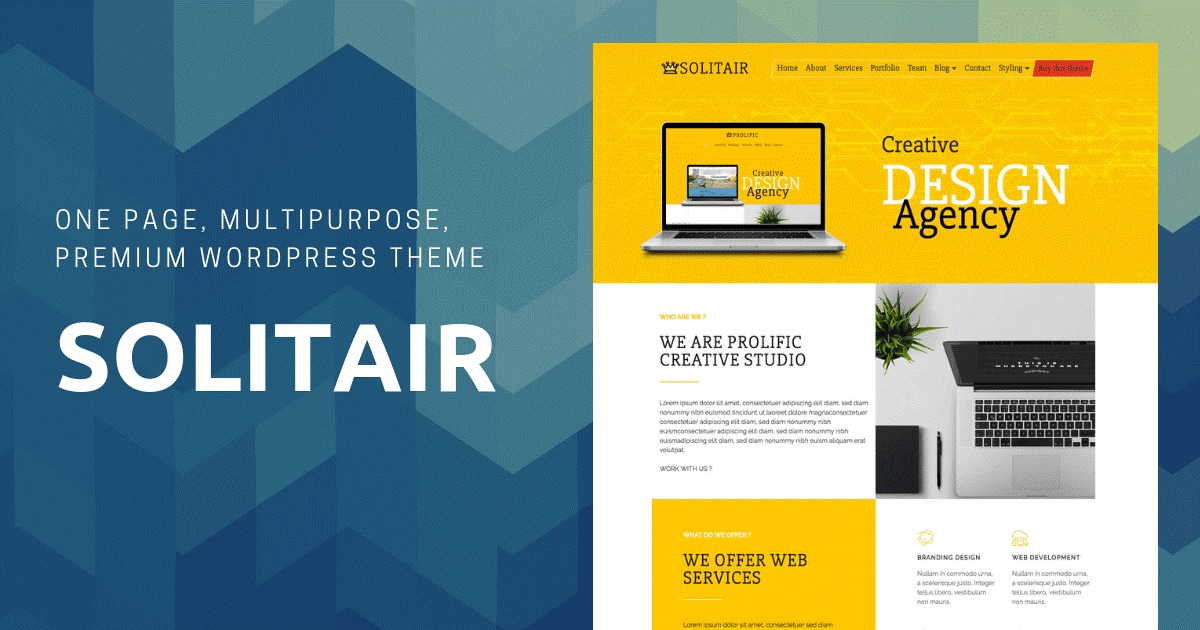 Amidst several other amazing features, this theme also provides custom colors, fonts, logo, typography, and responsive design. Its homepage is pre-built, but you can design it according to your brand.
As far as the sections are concerned, this theme supports, an image portfolio section, slider hero area, recent posts section, features section, contact info section, and testimonial section. Along with a clean design, this theme even provides demo data setup.
7. Strato
For those who are in search of a multipage WordPress theme, Strato can be the best bet. Absolutely perfect for agencies, small businesses, creative professionals, and startups, this theme comes with a modern yet elegant design.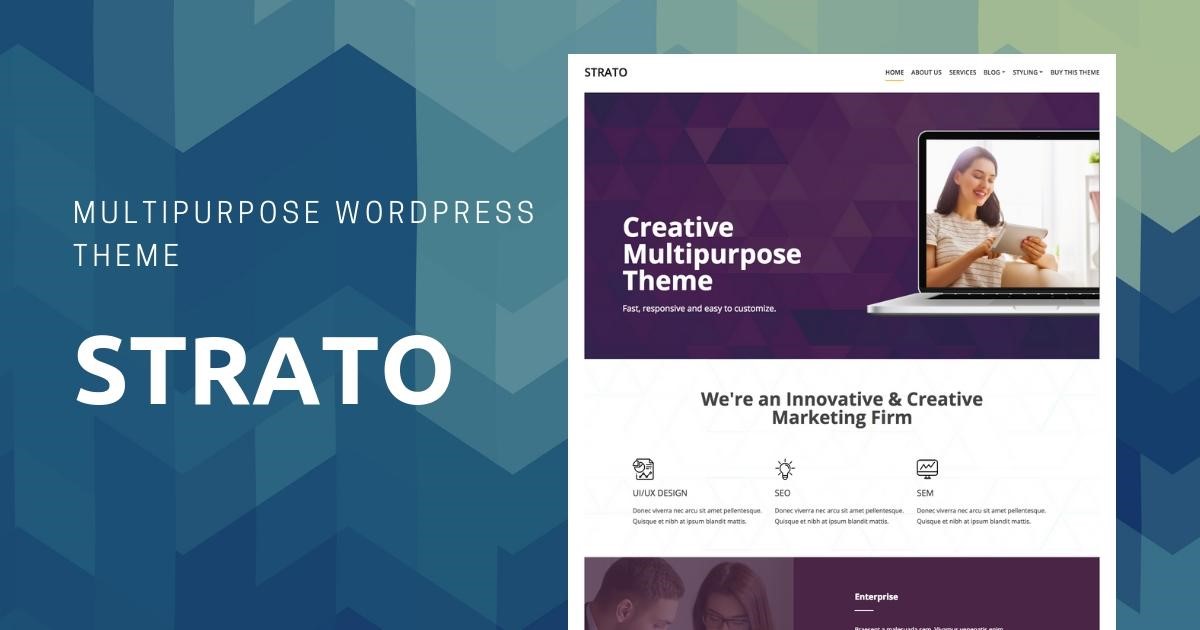 Furthermore, this theme comes with pre-built about page, services page, and home page. So, you would not have to put in a lot of efforts when it comes to customizing these pages. Along with typography, custom fonts, logo, and color, this theme supports video section, blog section, icon & text section, image & text section, amidst several other aspects.
Thus, if you want to add a lot more than some basic sections and aspects to your business website, you must give Strato a considerable thought. It can surely make your site look beguiling.
8. Rivet
Another one from the basket of CyberChimps is this Rivet theme. Being a single page theme, it can enhance the real estate of your website to a great extent. With the help of this theme, you can surely design a stylish site and that too, as per your own necessities.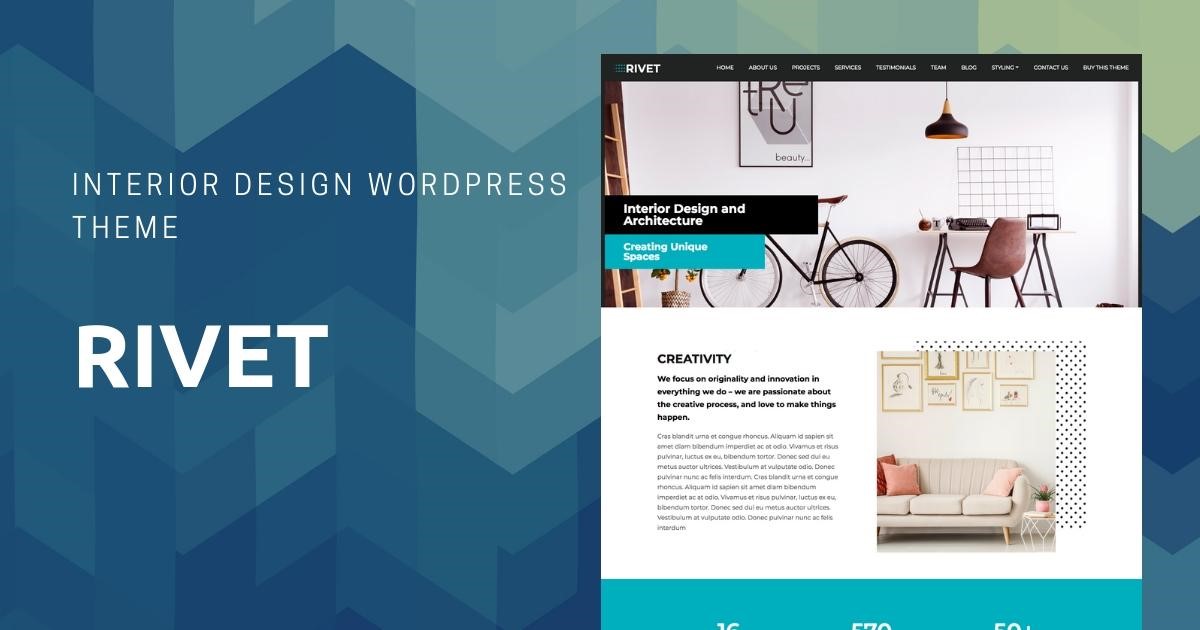 It has a responsive design; hence, you would not have to worry about whether the theme is going to run properly on small screen devices or not. Moreover, this theme even supports an animated counter section, blog section, and much more.
You can customize fonts however you want. You can even give a vibrant color to your website. And then, you even have the freedom to play with typography and can even put your own logo to help your audience feel a connection with your brand.
Conclusion
Developing a website is quite an intrinsic experience; therefore, you should not be leaving any stone unturned in making it a perfect branding material of your company. So, you can consider these themes mentioned above and experiment with the appearance of your website. In the end, make it look unique, attractive, as well as eye-catching to get a positive impact.
The post Top 8 WordPress Business Theme to Give Your Website a Professional Look appeared first on WPblog.