One of the most cool and progressive devices by Apple, iPad was launched almost a decade ago. Since then its popularity and usefulness has grown immensely. From preparing documents and presentations on the go to creating beautiful finger paintings, people have been using iPad for all sorts of reasons.
But to make the most out of the usefulness of the iPad you need a good iPad stand. With a gamut of products in the market, I have taken out 2018's top 10 iPad stands all with their different unique features. Take a look at each iPad stand's feature in detail to know which one would suit you best.
Read Also: 40 iPad Mini Cases, Covers & Sleeves You Can Buy
Noreve Leather Case is specially designed for Apple iPad 9.7″. The case is lightweight and elegant in design, and its leather cachet is made primarily to protect your device.
What I liked is its availability in different colors, designs, and materials, for example, smooth leather, grained leather, and synthetic leather, etc. That is not all; you can choose different colors for the external and the internal linings of the case.
This case also has a fastening equipped with a magnet to keep your device in place along with pockets to hold your documents, cards, and even a pen. The only downside I found is that its inner lining is same as outer lining, by default, and you must pay the extra price to change it to a color of your choice.
Smart Origami Case is designed for various iPad models, and comes in many different colors, depending upon the model. The Origami design gives it multi-fold functionality i.e. two positions for viewing and typing, two positions to create a stable base for soft surfaces, and one portrait position for making video calls.
Moreover, this case works with your device's sleep-wake function, thereby putting the iPad to sleep mode when the cover is closed, which helps conserves battery life. Lastly, it is very lightweight yet durable enough to protect your device.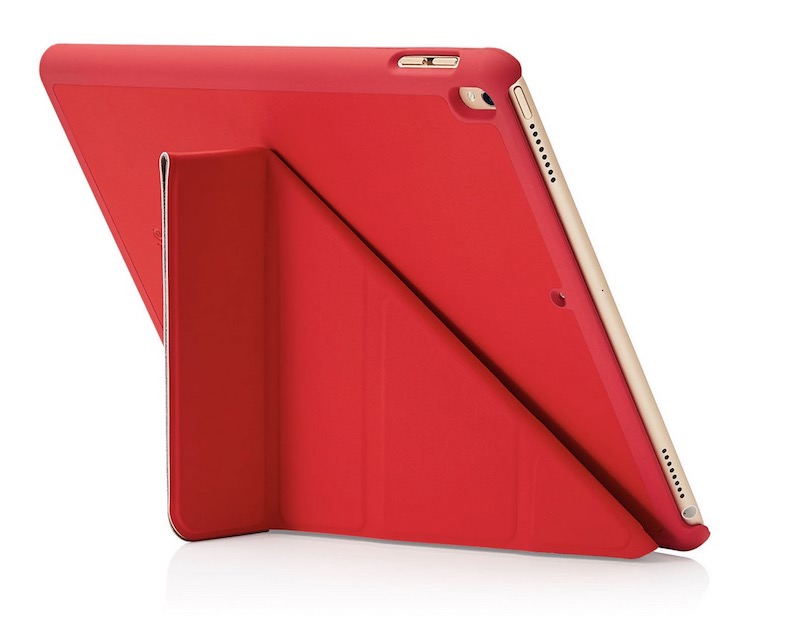 MoKo Smart-shell Case is available for the iPad 9.7-inch. What I love about this case is that it comes in 20+ designs and textures for the exterior, along with a classy, translucent frosted back.
It comes with a PU leather exterior and a microfiber interior that adequately protects your device. Functionally, it can be folded and made to stand, thus giving you a hands-free, easy-viewing experience.
It also features an automatic sleep-wake function, which wakes or puts your device to sleep when the cover is opened and closed. It is slim, lightweight, and gives easy access to all controls, and above all, is quite affordable for its features.
Herschel Anchor Sleeve case is made using "100% Polyester" for the iPad Air. Its inner lining is made of polyester as well, and it comes with a zipper closure.
Also, it comes in seven different varieties of patterns – as the exterior of the case. This sleeve case is lightweight and non-bulky with a great fit while providing adequate padding to protect your device.
However, a downside of this product is that it has just a single space for your iPad with no pockets to hold cables or other items. The case comes at a decent price, but there are not many features to look forward to.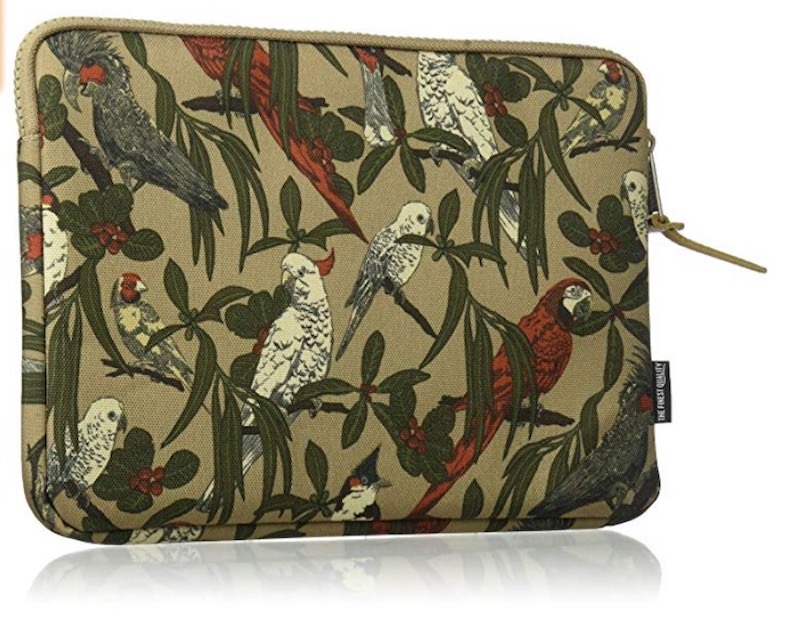 Brydge 9.7 is a Bluetooth-based keyboard case for your iPad 9.7″. This keyboard converts your tablet to a touchscreen laptop as it is fitted with a durable hinge, which allows your device to be rotated at 0-180 degree viewing angle. It comes in three colors, namely space gray, gold, and silver; and you can use it hands-free as well.
The keyboard is made from lightweight aluminum with a sleek look and feel, matching well with that of the iPad. Moreover, its keyboard comes with backlit keys with three levels of the backlight, which you can adjust per needs.
Overall, I find though it is a bit pricey, it is a complete package to expand your device's functionality and usability.
Defender Series Case from Ottorbox is specially made for iPad 5th and 6th generation. It protects your device from bumps, drops, and fumbles with a 3-layer rugged covering and includes a touch screen protector as well.
Additionally, it comes with a shield stand that can be altered in different ways, allowing you to use the device hands-free in multiple positions, for example, in portrait or landscape mode. What I liked is, this case comes with additional port covers to safeguard the ports from dust and moisture.
The downside of this case is that it is available in just a single color, i.e., black. Moreover, the price is towards the higher end compared to other products offering similar features, but its protection promise makes it worth it.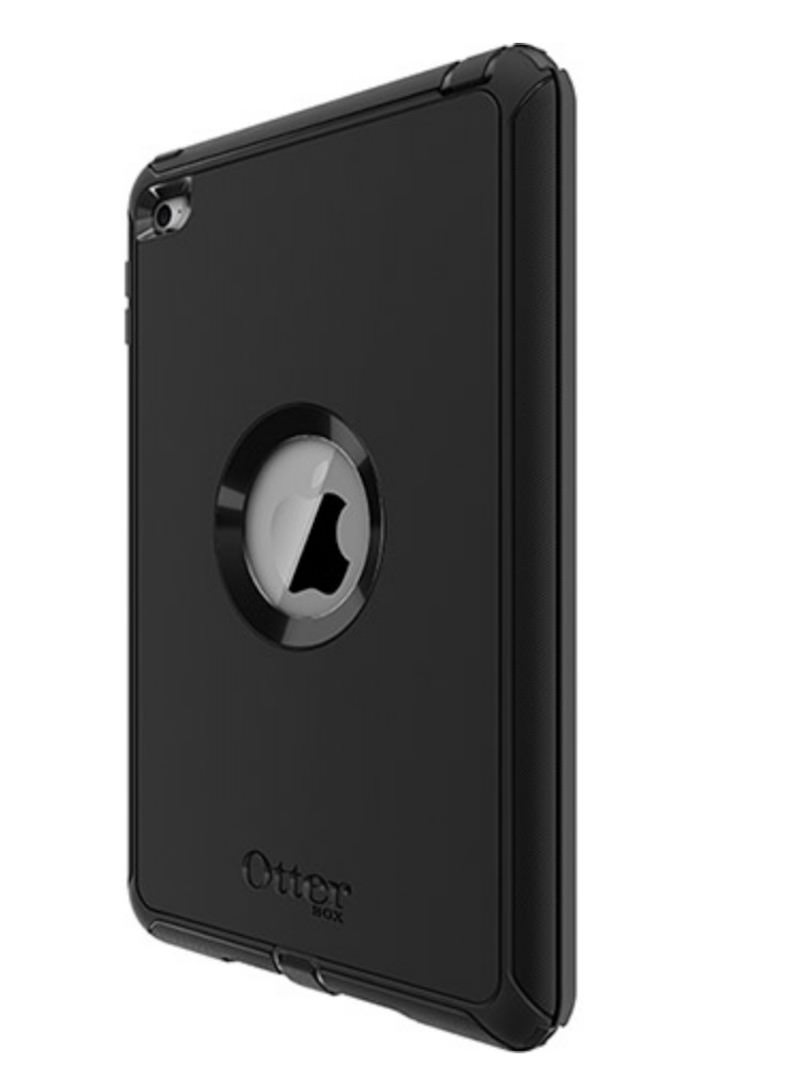 Balance Folio 9.7 features necessary protection for your iPad 9.7-inch device, thanks to its "PU Leather" exterior to protect from shocks and soft inner lining to protect your device from scratches. Furthermore, it has elevated edges around the screen to save your device from bumps and drops.
What I found interesting is that this case is available in six different color sets with light inner and dark outer colors. This case features an adjustable stand to allow you to place the device in multiple angles.
Also, it comes with a magnetic cover that automatically wakes up or puts your device to sleep when the cover is opened or closed. Overall, I feel that this case is a good bargain, seeing it has enough features for the price it comes for.
Zagg Rugged Book is made especially for the iPad Air 2 and offers multi-layered rugged protection, almost like Defender Series Case. Thus it prevents damage to the device due to bumps and falls. Thanks to its magnetic hinge along with its Bluetooth-powered keyboard, it works in different modes, namely keyboard mode, video mode, case mode and book mode.
That said, it feels almost like a convertible laptop. What I liked is, its keyboard is equipped with backlit keys, which simplifies typing in the dark.
Its downside, however, is that it's available only in a single color and also that it's somewhat overpriced. Still, it is one of the best keyboard cases around.
MoKo Heavy Duty Case is custom designed for the Apple iPad 9.7″ device, which boasts of precise fitting along with easy access to all the controls. What I found surprising is, it features rugged, dual-layer protection that is suitable for rough circumstances.
Moreover, it comes with a built-in screen protector to save from scratches. Interestingly, this case comes with a convertible stand, which allows you to use the device hands-free per your leisure.
Another of the pros of this product is its low price, considering the number of features it provides along with complete protection. The only downside I found is that it is available only in a single color.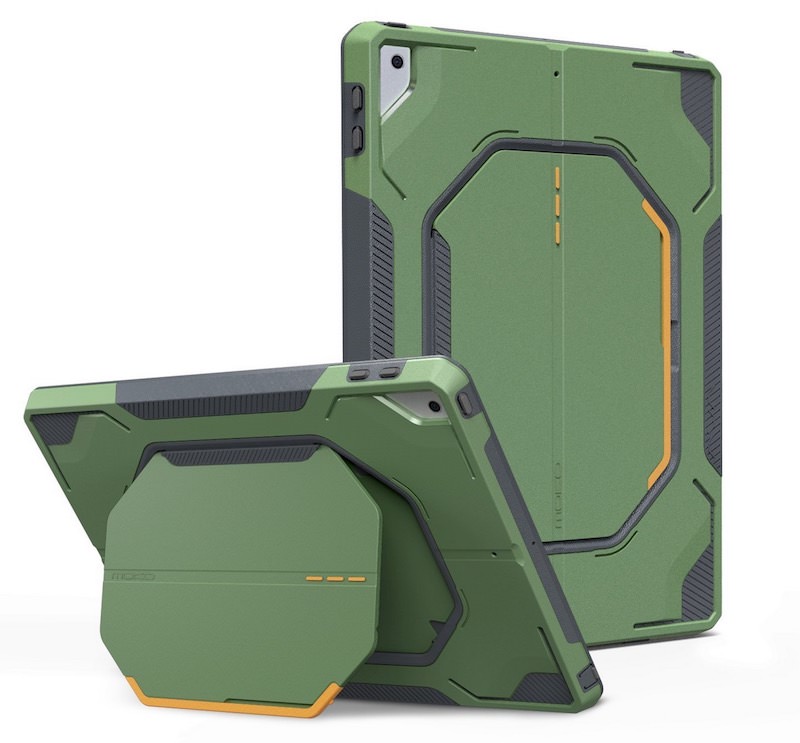 BookBook is a handmade, vintage-style leather case in the shape of an old book. It is both beautiful and protective for your iPad 9.7″, 10.5″, or 12.9″ device. Interestingly, it comes with a dual hardback cover to protect the device against drops and a microfiber interior to protect its screen from scratches.
Moreover, it comes with a built-in kickstand, which makes it very suitable for sketching, or typing. It features a display stand as well. The specialty of the case available for iPad 2018 and Pro editions is that they come equipped with a sleeve to hold Apple Pencil in place.
A downside to this case is that it is available only in two colors. Overall, this case makes a good deal due to its low price and an adequate number of features including its brilliant design.
The post Top 10 iPad Stands for 2018 appeared first on Hongkiat.
WordPress Website Development