Imagine a movie or video without sound effects. Even a magnificent film like Titanic would look nothing more than a joke if there are no 'Wham', 'Bam' and 'Smash' sounds in it. Background music and sound effects are important for making a video (or even an audio production) engaging and in its full essence.
There are thousands of online resources to download sound effects, however, not all of them can offer you high-quality material that's also free. So, in this post, I am listing 50+ cool websites to download just about any type of sound effect for free. Let's get on with it.
Read also:
CC Search – CC Search is an online search tool that lets you search for high-quality sound effects from all over the web, for all kinds of creative projects.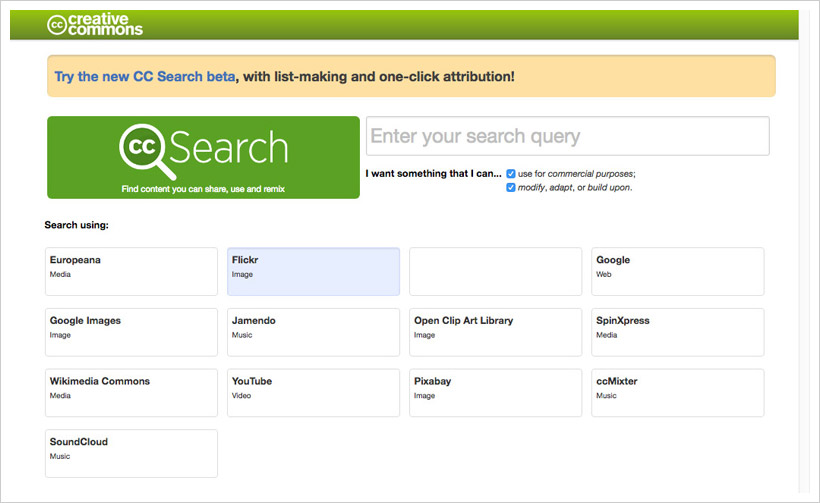 Free-Loops.com – This platform offers more than seven thousand CC-licensed sounds and loops, which are divided into categories like drum loops, synth loops, midi files, etc.
SoundBible – A superb site for downloading sounds, SoundBible, offers royalty-free sound effects that you can use commercially in movies, games, and other projects. The page provides thousands of sound clips like sound loops, game sounds, etc.
ZapSplat – At ZapSplat, you will get access to thousands of professional sound effects in various categories like nature, cartoon, horror, etc. Also, its library is updated on a weekly basis so that you get new and fresh sounds every week here.
Freesound – Freesound offers a collaborative database of audio snippets, samples, recordings, and bleeps. You can search for any sound or effect using keywords and look for its ratings to determine its quality before downloading it.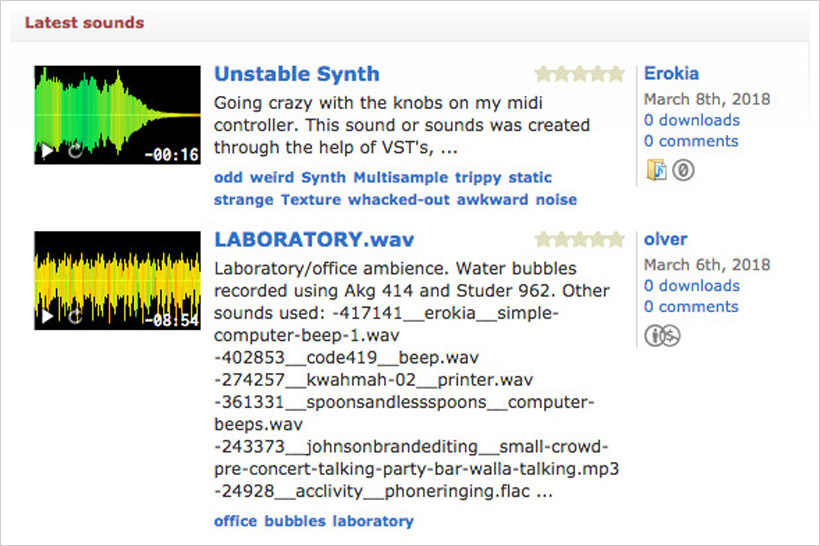 Partners In Rhyme – Partners In Rhyme includes a wide range of sound effects from many genres like rock, pop, romance, etc. The site also offers free music resources.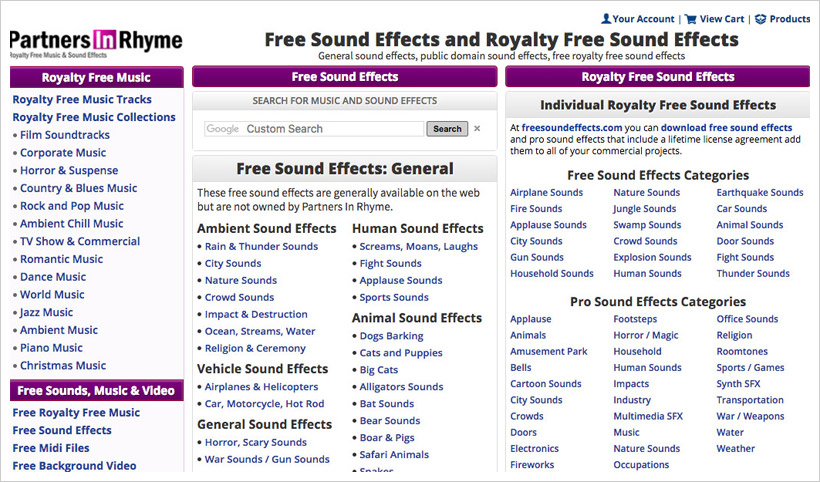 SampleSwap – SampleSwap offers professional quality loops and audio samples – a total of 7.7 GB of free sounds in techno, hip-hop, and a lot more categories.
Pond5 – Pond5 includes over 900 thousand sound effects, and thus, it is considered as one of the top resources for movie agencies, storytellers, and artists.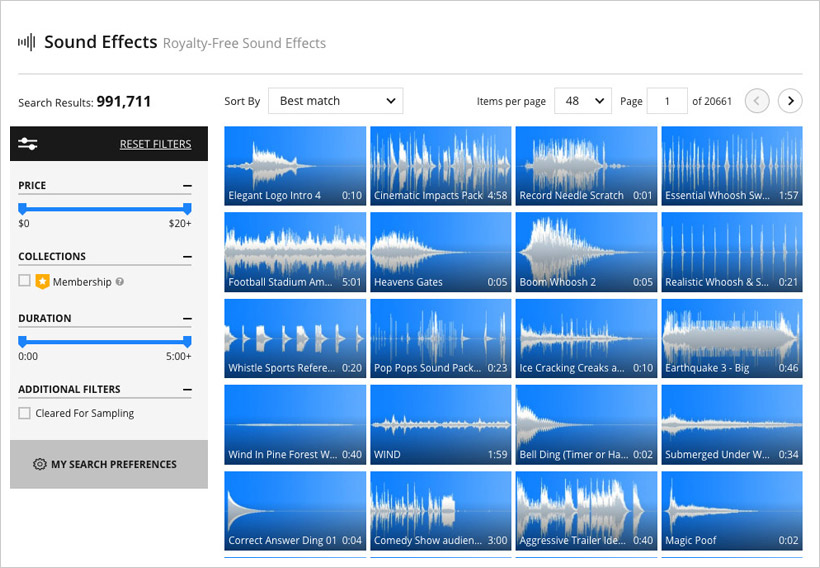 GameSounds – GameSounds offers a collection of royalty-free music and sounds, which are suitable for games and can be used commercially for free.
Soungle – Another search engine for sounds, Soungle lets you search for sound effects with the help of keywords. You will find many sounds here, thanks to its enormous database.
AudioMicro – AudioMicro offers plenty of sound effects with high-quality audio content. These include animal sounds, electronic sounds, horror and Halloween sounds, etc.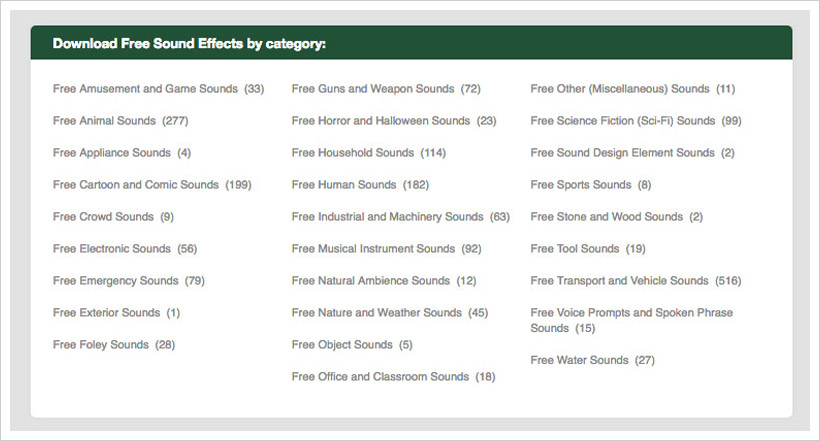 freeSFX – At freeSFX, you will get free soundtracks and sound effects made for audio enthusiasts and production companies. The sounds are contributed by its large community of proficient and versatile music artists.
PacDV – PacDV produces royalty-free soundtracks for music producers, filmmakers, etc., which are ideal for use in documentaries, games, and commercials.
Sound Fx by Flash Kit – Flash Kit offers thousands of sounds in MP3 and FLASHTRAK formats. You can quickly navigate to right sounds from categories like ambience, people, etc.
GRSites – GRSites includes approximately two thousand sound effects for free such as background sounds, car sounds, comics sounds, industry sounds, and lots more.
SoundJay.com – If you are looking for some royalty-free soundtracks with 16-bit stereo and 44.1 kHz or 48 kHz quality, then SoundJay.com hosts just the sound effects you need. Moreover, all the sounds are arranged in categories for traversing quickly.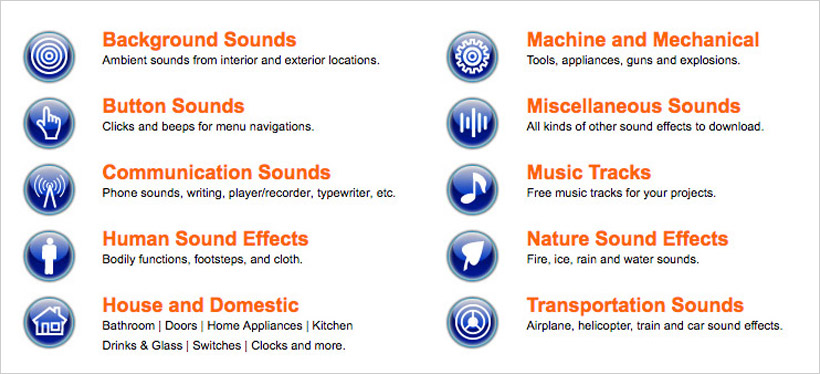 SoundGator – SoundGator allows you to browse sound effects through their list of categories, which includes unique sounds like that of a typewriter, smoke alarm, etc.
99Sounds – At 99Sounds, artistic musicians upload their creative sound effects for its audio community, which you can download without any usage limits.
PlayOnLoop – PlayOnLoop offers premium quality sound effects, which are ideal for any creative media works and suit professional artists and creators.
TalkingWav – Talkingwav.com offers thousands of free .wav sound files to download, including answering machine messages, cartoon, comedy, music, movie and tv .wav sounds, all fully categorized with descriptions. Plus loads of free mobile cell phone ringtones and videos.

American University – A sound library by American University to help students in their projects, presentations, and films, this page provides free soundtracks that work for all.
FindSounds – FindSounds lets you search the Internet for sounds and avails options to search only for stereo and high-fidelity sounds. You can also browse the sounds here.
FXhome – FXhome lists all its soundtracks under CC-license so that you can use them in commercial projects without any second thought. Here, you can navigate and download various types of sound effects like bullet/gun sounds, saber sounds, etc.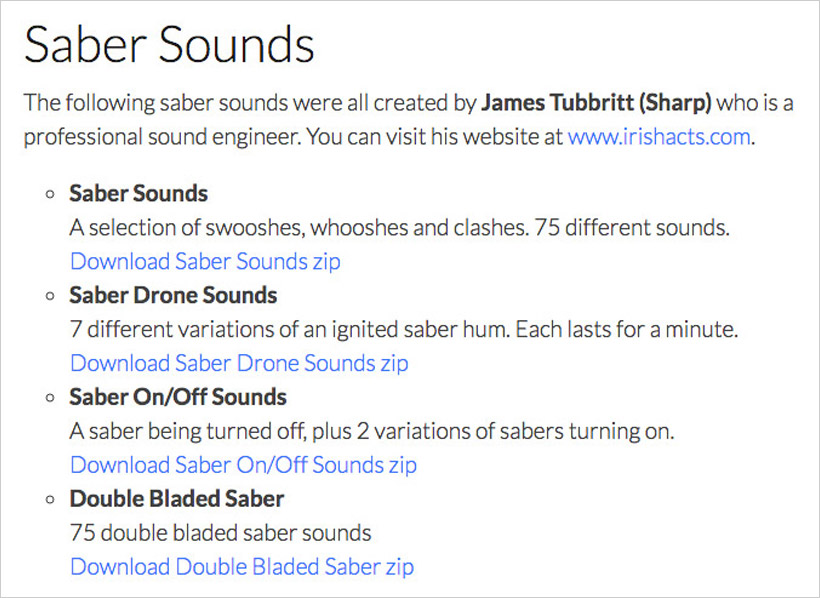 KC-Towers – On this page, Kansas City Art Institute offers a package of royalty-free sound effects, which has five categories – actions, materials, music, soundscapes, and voices.
Looperman – Another important site for royalty-free sounds, Looperman offers loops, samples and other sounds for free. Here, the soundtracks are uploaded by its community, and it avails more than 83 thousand loops and sound effects in total.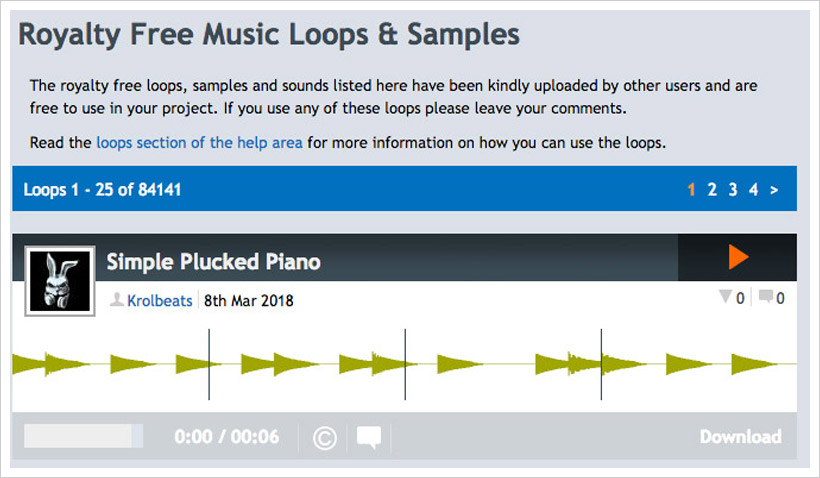 Opsound – Opsound hosts hundreds of sound effects in a wide range of categories and genres namely ambient, classical, country, disco, indie, jazz, ringtone, etc.
Nature Sounds – An exclusive site for soothing sound effects, Nature Sounds avails soundtracks mostly denoted to the nature, like rain sounds, storm and thunder sounds, etc.
Sonnyboo – Sonnyboo offers sound effects which are intended for documentary projects, movie productions, etc. Some of its categories include baby, monsters, etc.
Ambient-mixer.com – This site offers the most relaxing and soothing sound effects to chill your mind. Moreover, it avails large selections of audio templates and a mixer as well.
JL Recording Studios – JL Recording Studios lets you use the sound effects for your own production house. It includes a broad category of music like bird sounds, environmental sounds, etc.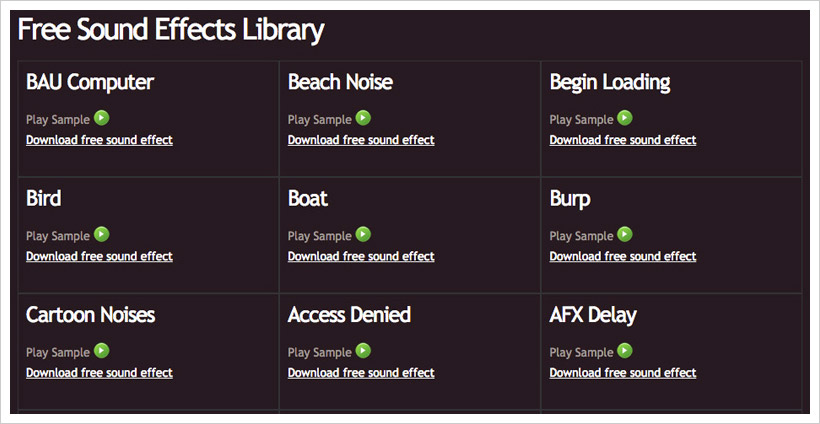 Free Sound Effects – Like the other sites, this site offers royalty-free sound effects in numerous categories. The audio tracks can be played online or downloaded in MP3 and WAV formats.
SoundEffects+ – SoundEffects+ provides more than five thousand sound effects, which are recorded and produced by its team of professionals. It avails them under a free license.
get-sounds.com – get-sounds.com offers hundreds of sound effects in categories like animals, cartoon, military, nature, sports, transportations, and some more.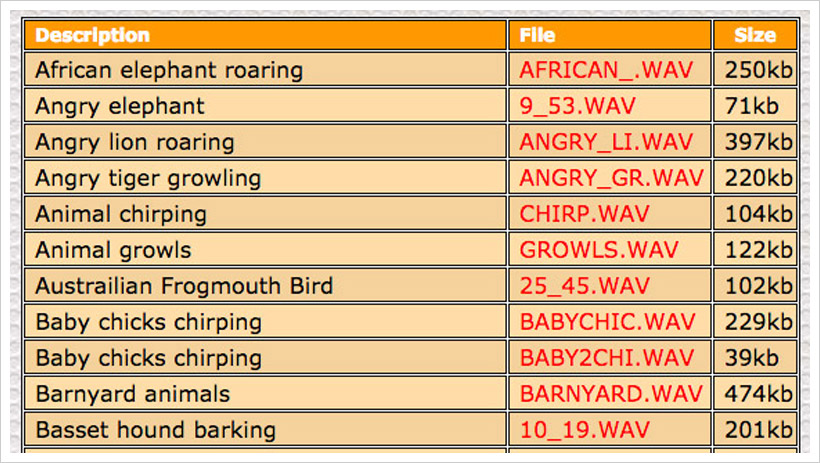 MediaCollege.com – Similar to the above sites, MediaCollege.com offers sound effects for your commercial or personal projects. They are free and arranged in categories.
Community Audio – Community Audio offers thousands of sound recordings compiled by contributors and community members. You can preview before downloading them.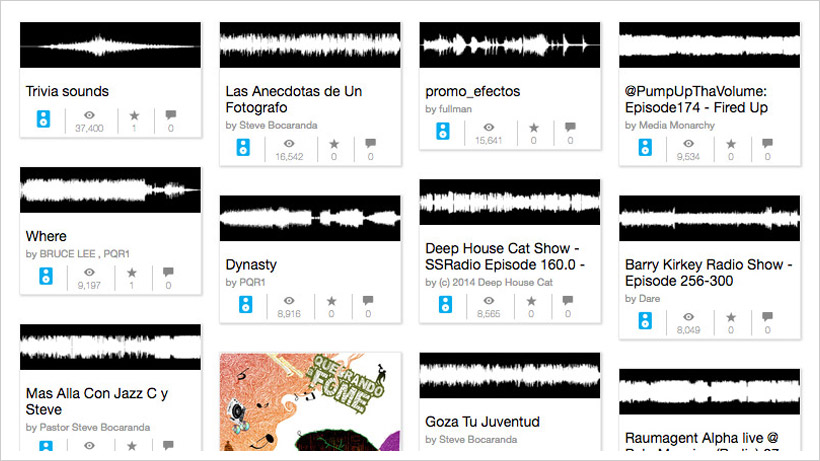 Orange Free Sounds – This platform provides a wide range of free sound effects, music loops, and background music that are usable for personal as well as commercial purpose.
Free Sound Effects Collections – Music for video provides different categories of sound effects and music clips. You can download and use these sounds for free on your video/multimedia productions. The sounds in this part of the website are for people working on video production, video montage, and multimedia projects and etc.
SoundsCrate – SoundsCrate offers various sounds for your creative and visual experiments. It also avails an option to search for all types of audio using keywords.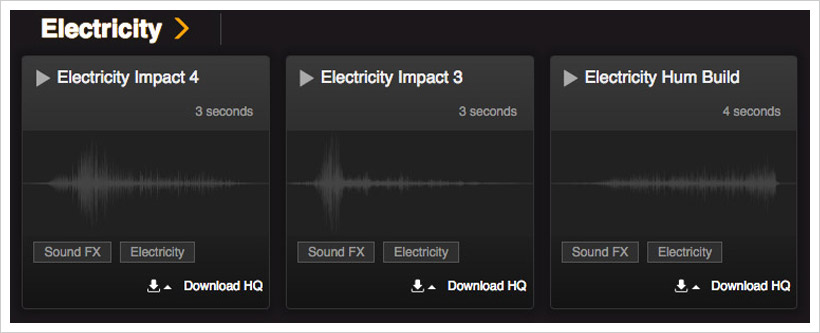 HISSandaROAR – Another fantastic site, HISSandaROAR, offers the most unusual and exclusive sound effects that are downloadable and usable in any project.
The Recordist – The Recordist comprises of a collection of hundreds of free sound effects. These audio tracks are available as high-quality audio in MP3 format.
PremiumBeat – PremiumBeat has more than 120 sound effects arranged in many categories. These effects are useful in any commercial or personal project.
Videomaker.com – Videomaker.com offers you a free package of 101 sound effects, which include airborne sound, booing crowd, doorbell, and a lot more sounds.
Adobe Audition Sound Effects – Adobe Audition offers thousands of uncompressed, royalty-free audio effects, which can be downloaded as compressed archives of categorized effects.
Free Music Archive – Free Music Archive is a complete database of royalty-free sound effects, which can be played online or downloaded to use in your creative projects.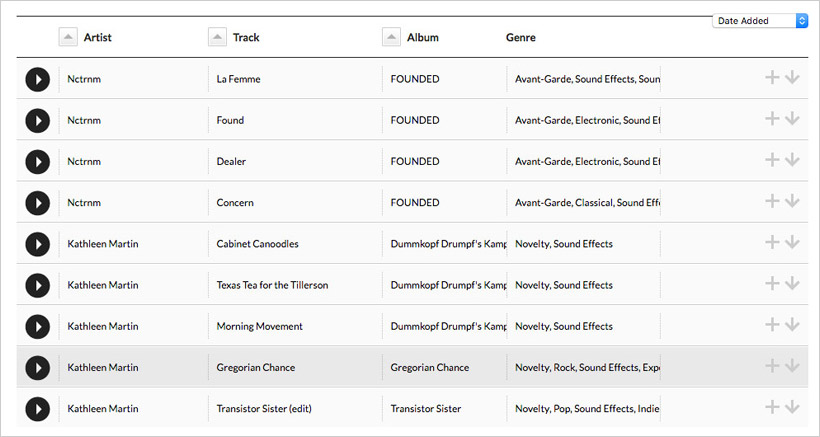 Facebook Sound Collection – An initiative by Facebook to help creative artists, it offers an exclusive collection of 1500+ original sound effects that can be used for any purpose.
Acoustica – Acoustica includes a variety of original and custom-made sound effects from plenty of genres in WAV format. You can use them in any project.

Skyes Audio – SKYES AUDIO offers a creative collection of selected royalty-free sound effects, which are produced exclusively to enrich your artistic projects.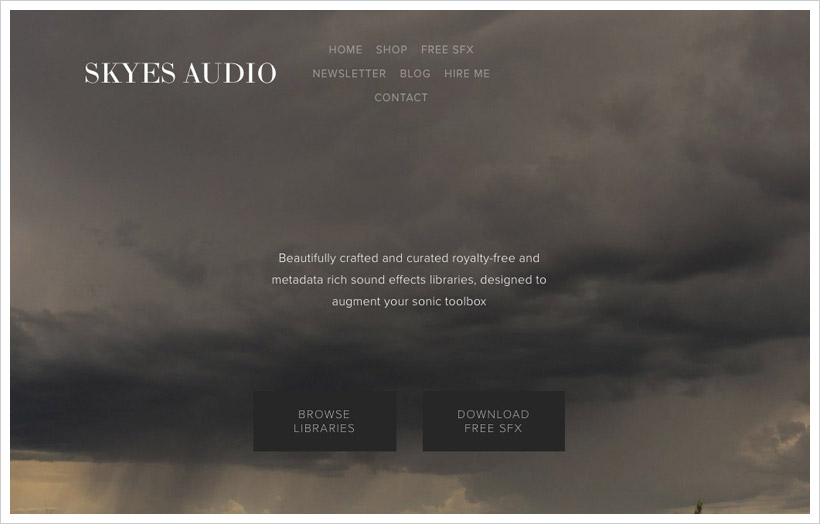 Big Fish Audio – This site comprises of loop collections, sounds, and construction kits for your projects. You can discover tracks on this site and download them in WAV format.
Free Sound Samples by OLPC – In this site, you will find a variety of 44 kHz sound samples, which can be used for multipurpose projects – including commercial ones.
Memozee – Over 280 animal sounds available for free download. You can even read the provided description to know better about the particular animal sound.
3dmm Studio – 3dmm Studio has compiled and categorised several sound packs. Rubin's '3dmm Sound' packs require you to import the .3mm file into your movie, where-as the packs complied by Will Cheyney are standard zips with categorised .wav files.
Pachd – Over 80 free sound effects are available for download at Pachd.
VocalDownloads – The royalty-free sound effects from VocalDownloads provide clear audio and come in WAV format. You can play a track online as well as download it.
VIPZone Samples – VIPZONE Samples offers free drum sounds and vocals for remixing, and many free samples for personal and commercial use alike.
Boogie Jack – Funny, weird, annoying… you'll find all kinds of sound effects at Boogie Jack.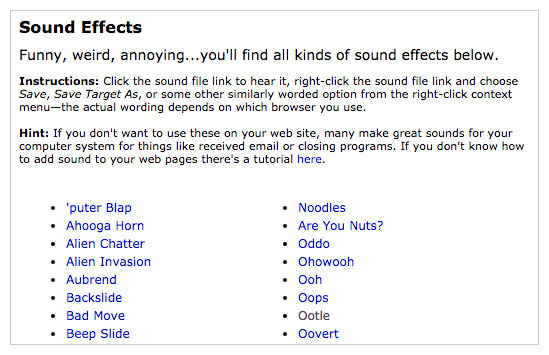 Pro Sound Effects – Pro Sound Effects includes a library of 290 sound effects from its world-class network of recordists that can be used for personal and commercial projects.
eSoundz – eSoundz has an updated library of free sound effects that come in packages. These are produced by professional artists like guitarists and keyboardists.
soundsnap – Search for, preview and download royalty free sound effects for immediate use in your multimedia project. These high quality royalty free sound effects are hand-picked from only the best sound designers.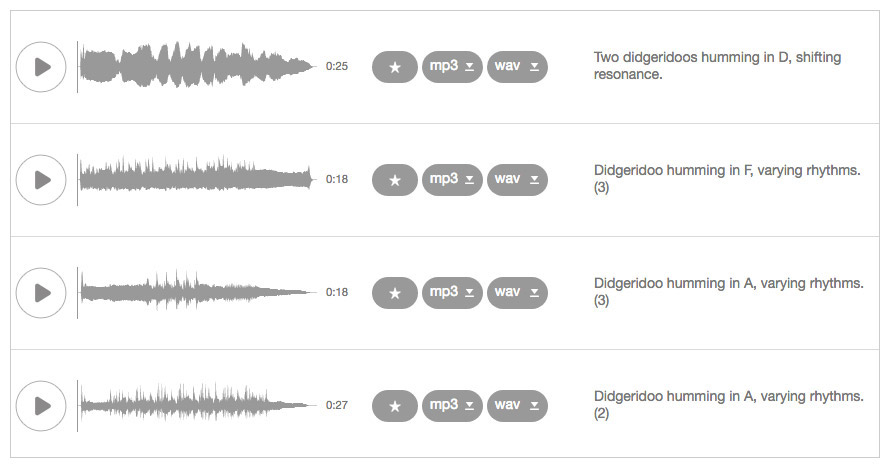 The post 50+ Sites to Download Free Sound Effects for Almost Everything appeared first on Hongkiat.
WordPress Website Development