Anyone who owns an Apple Watch knows how convenient a charging dock is when you need to charge your watch at a secure and handy station. But what most people might not know is that there is an array of crazy cool Apple Watch docks that offer some interesting features as well.
From charging stands to stylish charging pads, here are some of the best Apple Watch docks you should check out and see which one will suit you the best.
Colors: Black and white.
Material: Plastic body, metallic base.
Price: 29.99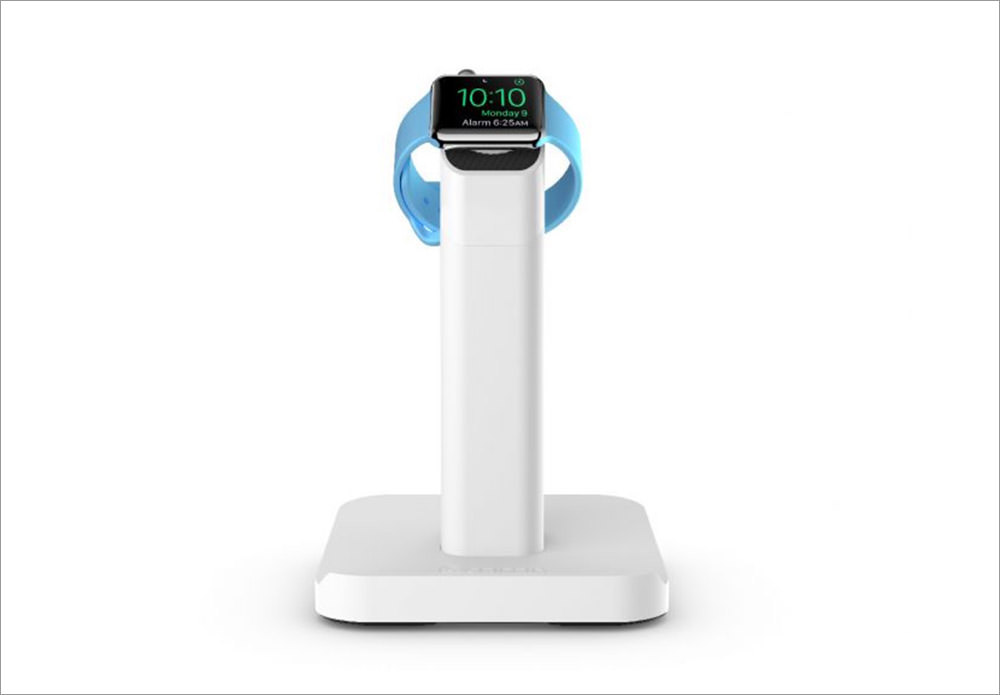 A compactly designed dock, the WatchStand offers you a comfortable viewing angle as your watch charges. The charger is equipped with a Magnetic Charging cable that gently snaps itself onto the back of your watch along with a non-slip base.
The WatchStand offers both vertical and horizontal charging position for your watch and you can also place your mobile phone on it. The excess cable stores away from view inside the pole section of the stand that doesn't make it look messy.
Pros
Charging cord hides inside the stand.
Metal base keeps the dock sturdy.
Cons
Too heavy to be carried around easily.
Not practical for horizontal charging position.
Colors: Silver
Material: TPU and premium aluminum.
Price: 24.99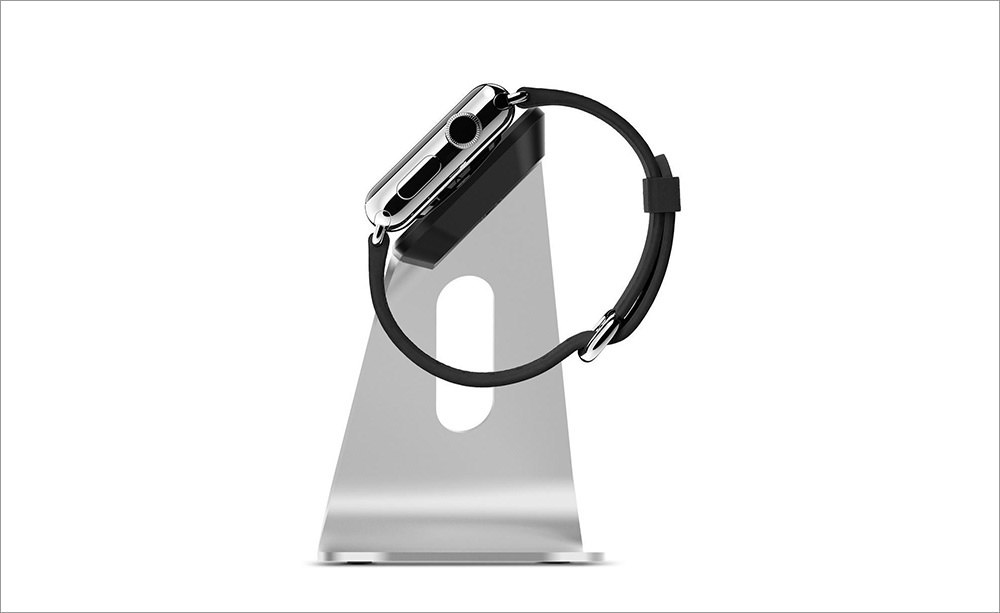 A sleek and stylish charging stand that can effectively hold your Apple watch and its magnetic charger. Its charging pad has been designed to hold your watch at a 45 degree angle for easy placement and equally easy viewing.
The stand comes with charger cutout that's compatible with all Apple Watch chargers and the cutout on the side of the stand enables easy cable management. Moreover, Nanotac™ pads give its base the best hold on flat surfaces.
Pros
Reasonable price.
Simple and elegant design.
Cons
Light material makes the stand tip over.
Watch may slide off the charging pad due to the tilt.
Colors: White and black marble.
Material: Natural marble with aluminum arm.
Price: $129.99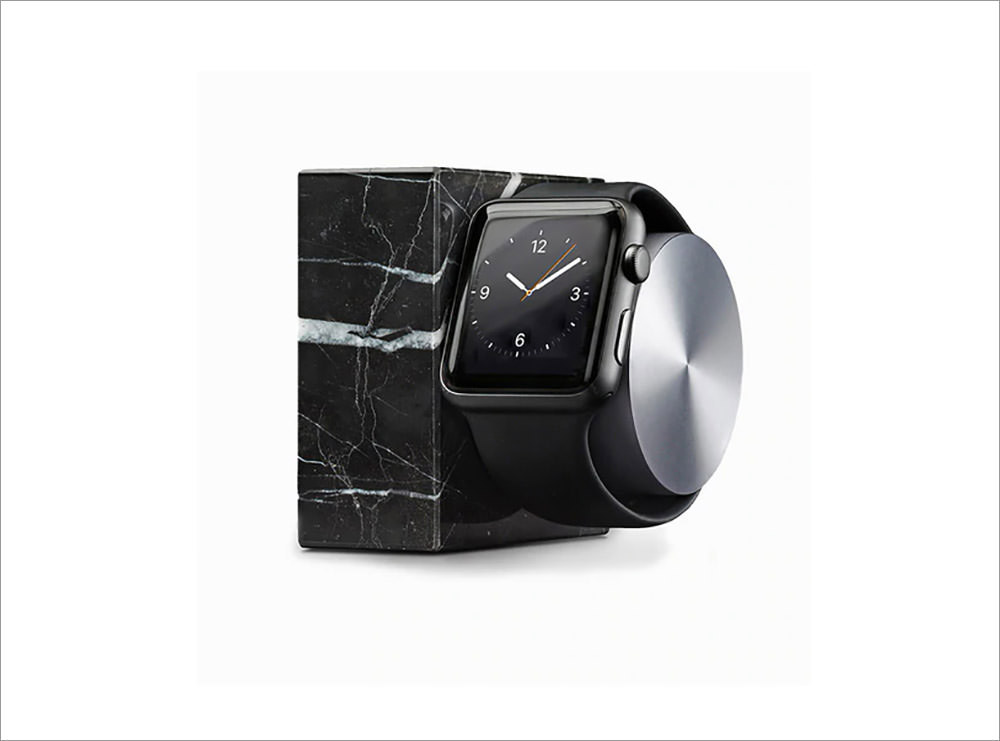 A beautiful luxury tech, the Native Union DOCK for Apple Watch is a minimal and aesthetically pleasing piece. The rotating arm allows the Apple Watch to be angled at any degree that is comfortable for viewing and goes with all buckles and strap design.
You can position your watch on either side of the base or simply place it on a horizontal position to turn it into a nightstand.
Pros
Classy design.
Offers charging in vertical as well as horizontal orientation.
Cons
Premium price.
Marble look would be different than what you see in images.
Colors: Silver/Black and Gold/Navy.
Material: Aluminium
Price: €63,95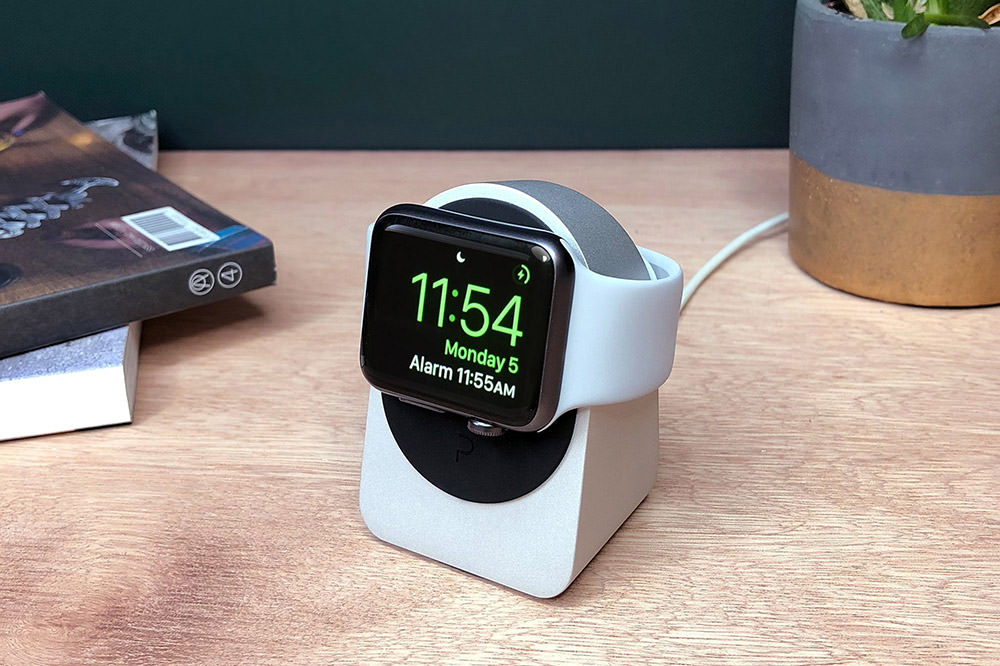 It's a charging dock with integrated MagSafe cable management for easy storage and a protective casing for your Apple Watch – perfect for the Apple fan who is always on the move.
The rigid protective cover comes in bespoked leather, available in black and tan, while the interior is made up of EVA foam and microfiber lining. WatchKeeper has a 12-month warranty and ships worldwide for free.
Pros
Solid aluminum body.
Easy cable management.
Cons
Doesn't offer horizontal charging.
Comes with a heavy price tag.
Colors: Silver aluminum, space gray aluminum, and natural bamboo.
Material: Aluminium/ Bamboo.
Price: $79.95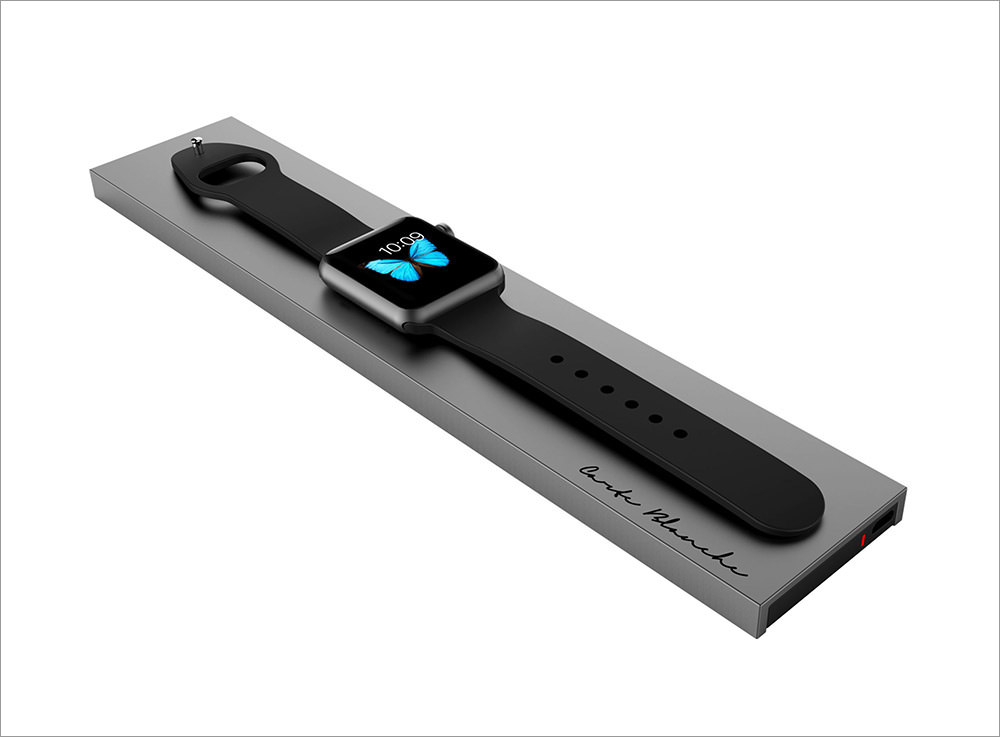 First in our list, here's a wireless powerbank with 2000mAh lithium polymer battery that can offer up to four full charges for your Apple Watch. There is round cut-out for the magnetic charging cable in the center where you can place your watch for charging.
There's a microUSB port and three LEDs at the back of the dock that indicate current charge level. It's a nice one-piece dock however, you have to assemble your charging cable within the dock which is a bit of hassle so it's better to keep a spare cable and devote one for the Bloc. Apart from wireless charging Bloc can also be used as a nightstand dock or paired with your Mac for charging.
Pros
Wireless charging for on the go usage.
Dock and portable battery in one.
Cons
Doesn't come with a protective case.
Complicated installation.
Colors: White, black, blue, green, and red.
Material: High-grade silicone rubber
Price: $29.95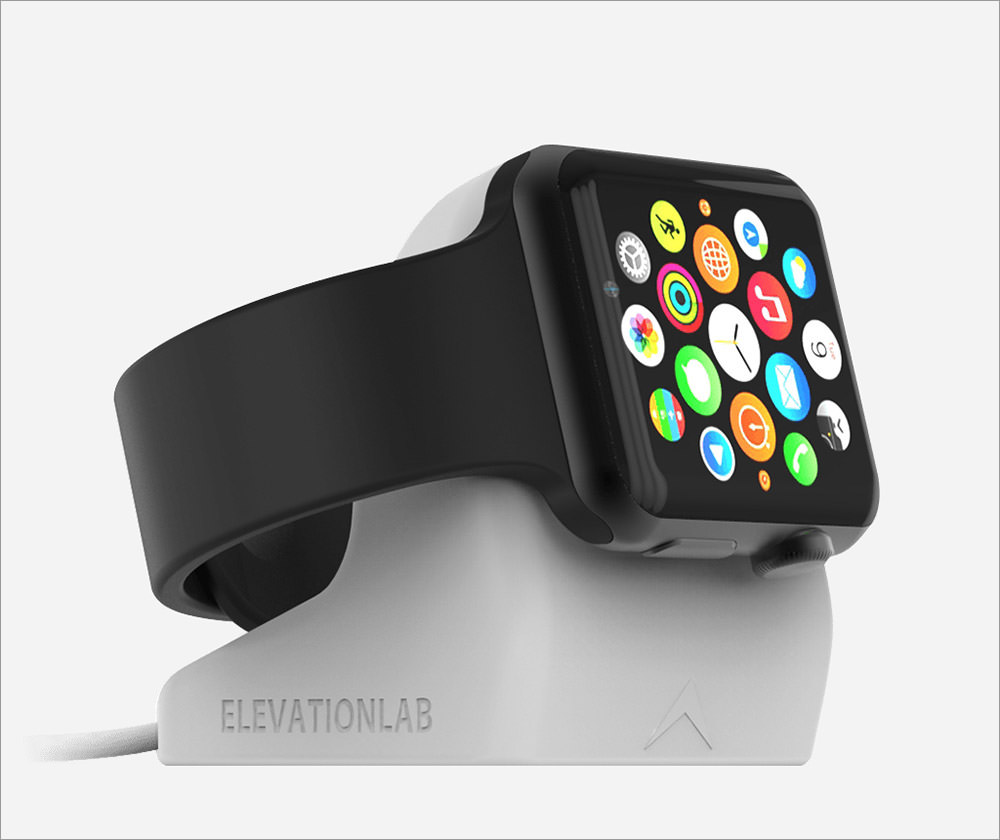 If you have a really crowded desktop, Elevation Lab's space-saving Nightstand is what you'll need. Made out of a single seamless piece and super adhesive NanoPad bottom, it can be mounted on any surface, horizontally or vertically. Moreover, it comes with optional 3M adhesive pad the same that's used with GoPro cameras.
It is pretty easy to install your magnetic charging cable into the NightStand's silicon body. The dock has been specifically designed to make good use of Apple Watch's Nightstand mode however, you can also mount it vertically on a flat surface and charge your watch in this orientation.
Pros
Small and space-saving.
Versatile mounting options.
Cons
No base to hold the watch in place.
Not suitable for heavier watch bands.
Colors: Space gray
Material: Stainless steel, anodized aluminum, and rubber.
Price: $39.95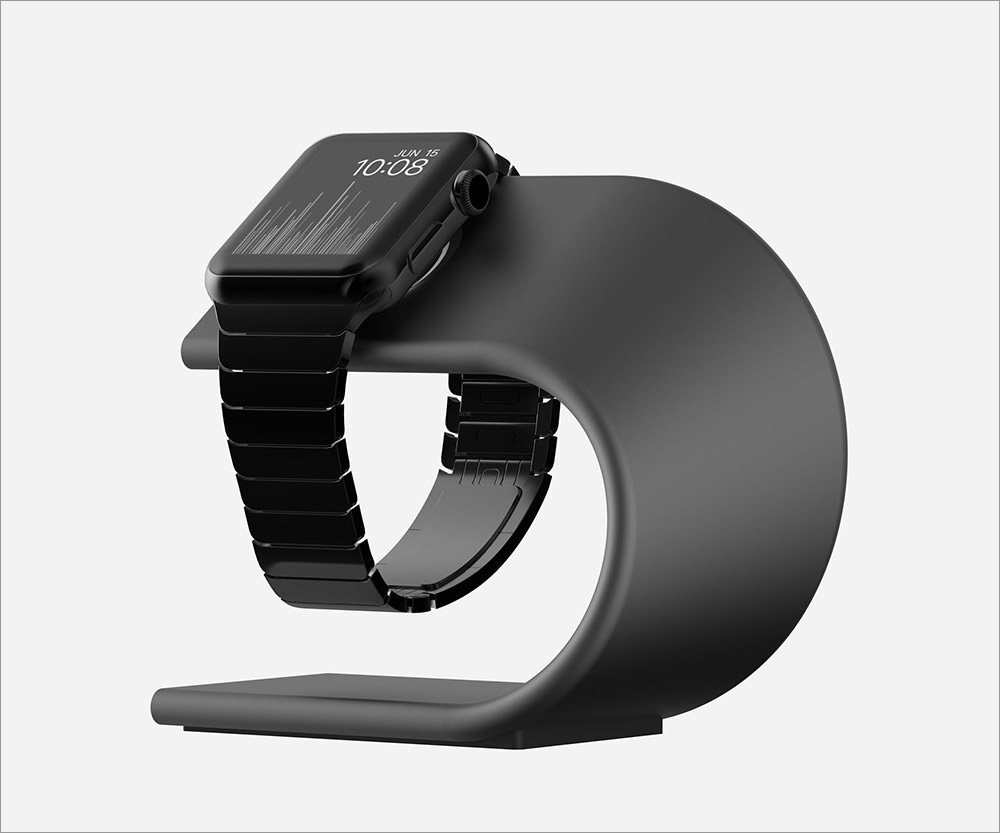 A beautifully curved Apple watch dock, Nomad's stand is made with single piece of aluminum with a small rubber pad on the bottom. The creative design offers cable-routing channel worked into the back side of the dock that makes the cable look almost invisible.
What I found most interesting in this dock is that the charging puck is slightly elevated enabling it to have a solid contact with the watch. Moreover, the copper alloy base gives it the balance and weight it needs to keep from tripping over.
Pros
Aesthetically pleasing design.
Aircraft grade aluminum body.
Cons
Difficult to install cord in the cable groove.
No nightstand mode orientation possible.
Colors: White.
Material: Soft rubber top and microfiber cloth bottom.
Price: $79.00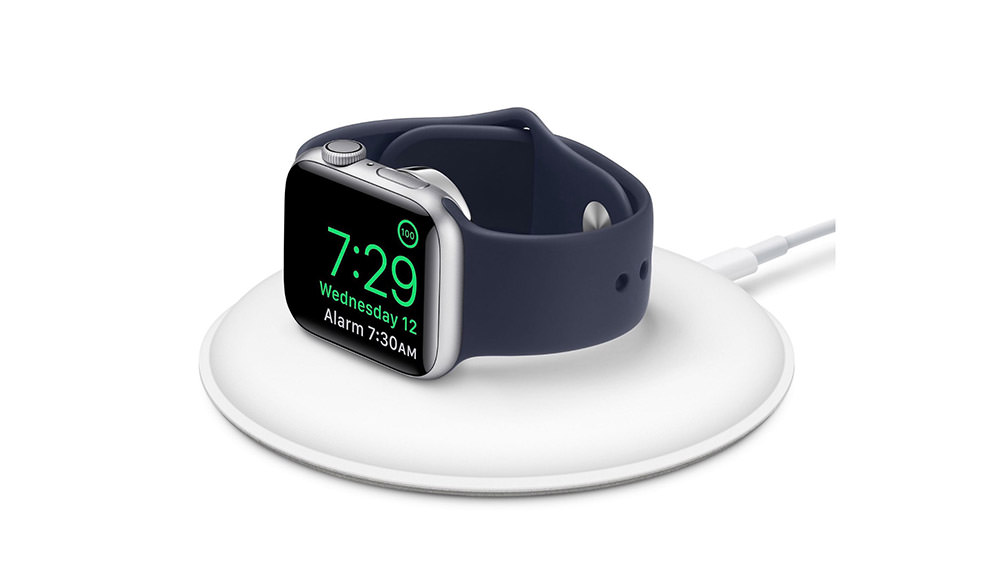 This is an official charging dock for your Apple Watch. Keeping up with Apple's signature minimalistic design, this dock will give you a simple look (a bit too simple I'd say) and allows you to charge your watch both horizontally as well as in the Nightstand mode.
What I found most interesting is that the magnetic charging puck comes integrated into the dock and can be popped up to work with the Nightstand mode. Moreover, it comes with an extra-long lightning cable that you need to connect with a power block (not included in the box) to get it charging.
Pros
Built-in charging puck.
Comes with an extra-long Lightning cable.
Cons
Available in only one color.
Not aesthetically impressive.
Colors: Bright Black.
Material: Aluminum and plastic.
Price: $29.97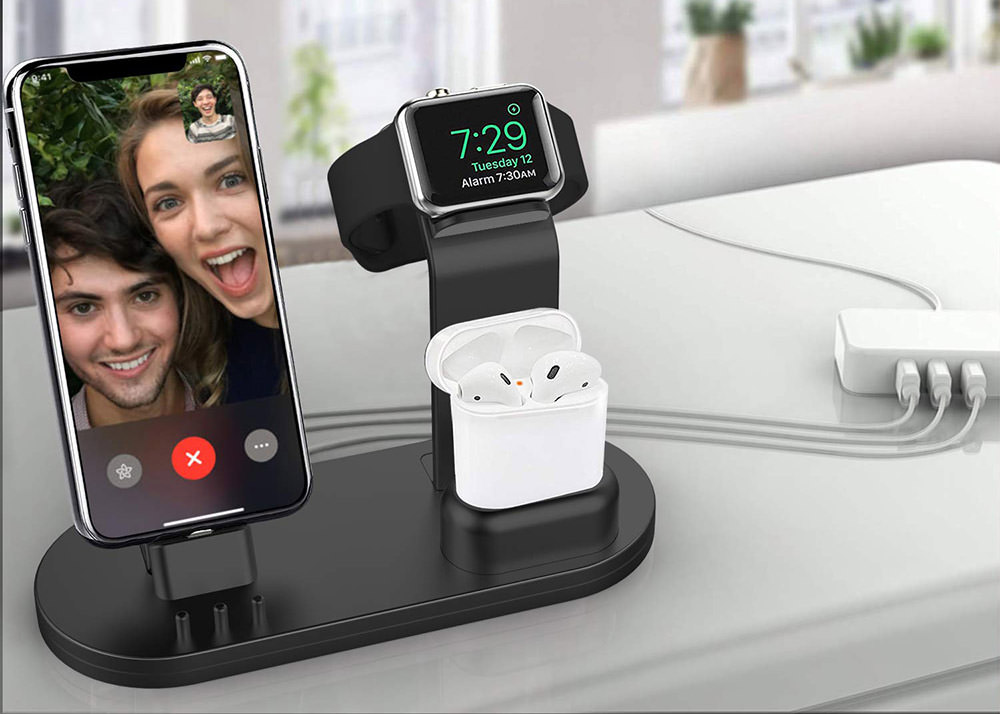 First in our list, here is a charging stand for simultaneous charging of multiple Apple devices – Apple Watch, iPhone, Airpods. It comes with two lightning cable cables to charge iPhone and Airpods, however, the magnetic charging cable for Apple Watch is not included.
The OLEBR stand is a great bedside charging station for overnight charging your Apple devices. It has a sturdy base that doesn't slide around or tip over. Also, the Apple Watch charging puck fits nicely into the cut-out and you can charge your watch in the Nightstand mode.
Pros
Charges multiple Apple devices simultaneously.
Comes with 2 Lightening cables.
Cons
Difficult to manage cables.
Complicated assembly.
Colors: White/silver.
Material: Aluminum and plastic.
Price: $79.99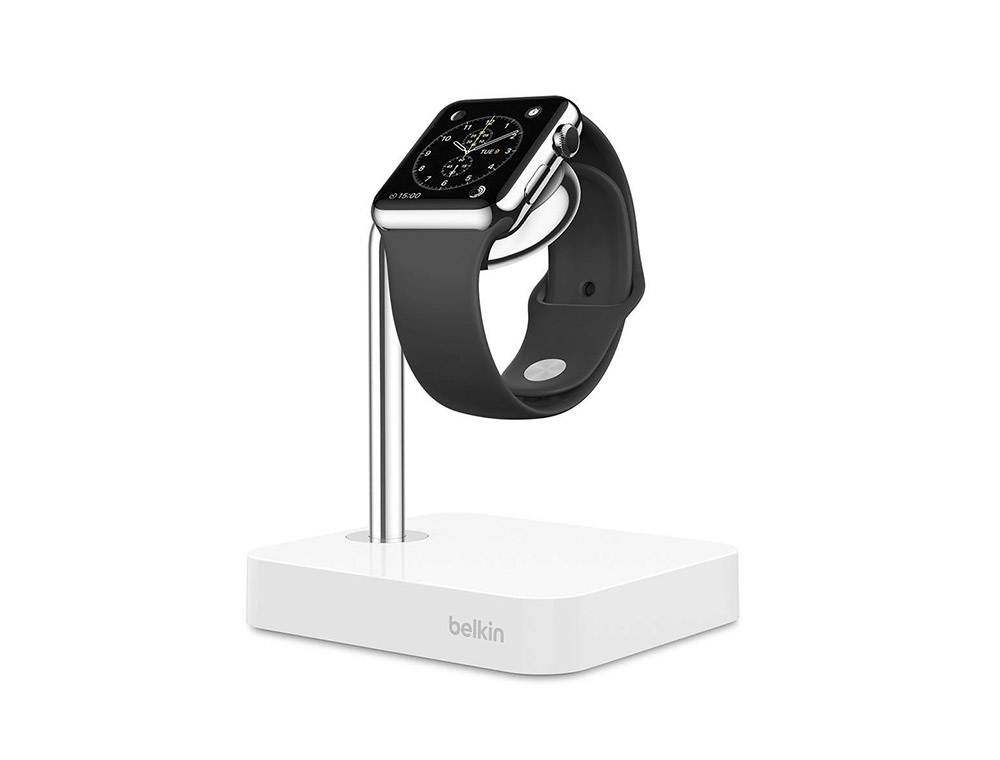 As Apple allowed accessory makers to create docks with integrated Apple Watch magnetic charger, Belkin became the first one to avail this opportunity and produced Watch Valet. It is an elegantly designed dock with premium finishing. The built-in charger is tilted to displays your watch at an optimal viewing angle and you can easily slide your watch on and off the charging connector.
The suitably heavy base of this dock has been given a typical Apple-like finish along with chrome finish solid metal arm. its most interesting aspect, however, is the removable wrist band that can be used to give extra support to your watch while charging (specifically in case of heavier watch bands).
Pros
Integrated magnetic charger.
Optional wrist band support.
Cons
Premium price.
Performance issues may appear after few months of use.
Colors: Chrome/Grey Black.
Material: Aluminium and plastic.
Price: $49.99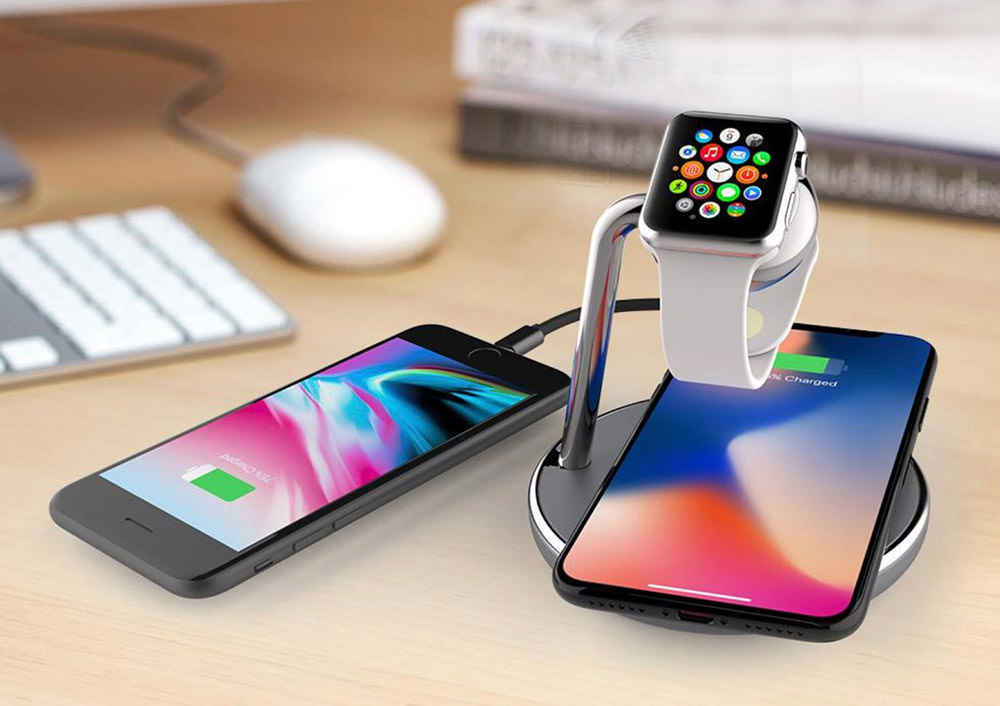 Quite similar to the Belkin Watch Valet in looks and features, Mangotek Apple Watch Charging Stand comes with integrated MFi certified Apple Watch charger. The charger has a nice design with elevated arm and a nicely weighted base.
This charging stand offers a lot of cool features but I think for such a hefty price tag they could have added a wireless charging pad to the base, however, it does come with an intelligent 2.1A USB port to charge your Apple Watch and other devices simultaneously.
Pros
No assembly required.
Built-in 2.1A USB port for charging other devices.
Cons
Could've added a wireless charger to the base.
Performance issues may appear after few months of use.
Colors: Black, Rose Gold, Dark Grey, Champagne Gold, and Silver.
Material: Silicon and solid aluminum.
Price: $29.99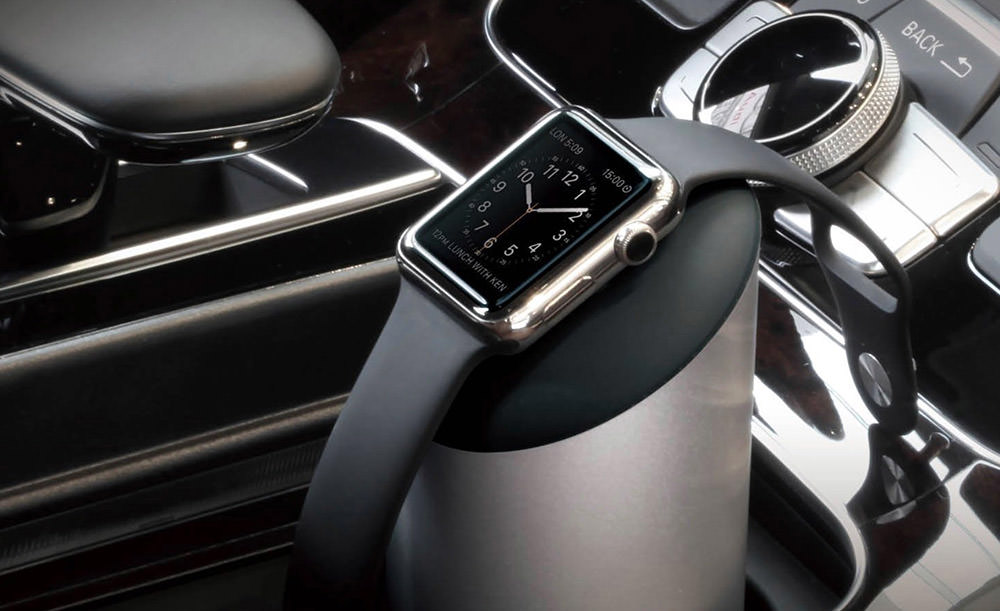 elago W Charging Stand is a cylindrical Apple Watch Charging stand made with solid aluminum and grippy silicone top and bottom. The stand allows you to charge your Apple Watch anywhere and even fits conveniently in your car's cupholder.
Cord management is what stands out the most about it as you can store away all the extra chord within the stand. Also, there are so many color options to choose from so you can easily pick the one that goes with your Apple Watch.
Pros
Good chord management.
Fits conveniently in your car.
Cons
Unimpressive finish.
Doesn't work well with the Nightstand mode.
Colors: Grey/White
Material: Plastic body and rubber feet.
Price: €49.99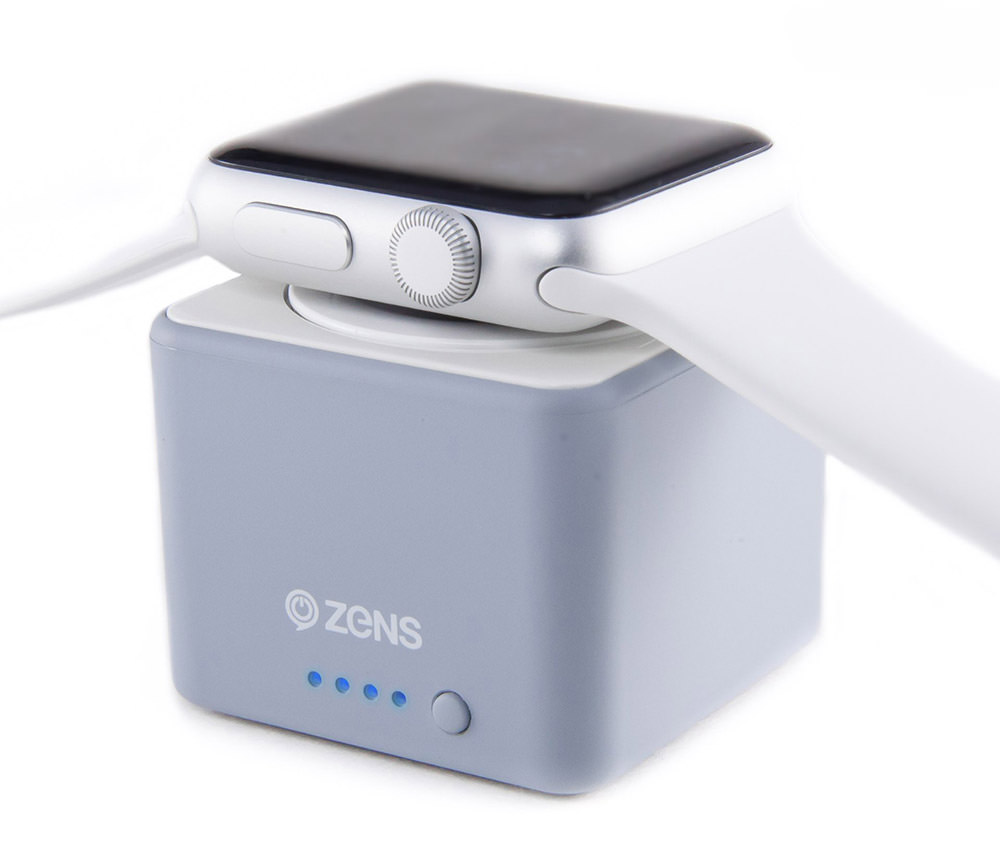 Here is yet another Apple MFi Certified charger or power bank for your Apple Watch, Zen Wireless Charger is however really compact and easy to carry around. You can either drape your watch on the charger or wrap the strap around it for charging.
With Zen you can leave your Apple charger at home and just use a fully charged cube on weekend trips. The charger features premium plastic body and small rubber feet that are very effective at keeping it from sliding around. Also, the 1,300mAh battery gives 2 – 3 full charges to your watch and nifty LED indicators notify you how much battery juice is left.
Pros
Ultra portable.
LED battery indicator.
Cons
Comes with a heavy price tag.
Lightning port would've been better than micro-USB.
Colors: Black.
Material: Anodized aluminum and executive leather.
Price: $139.95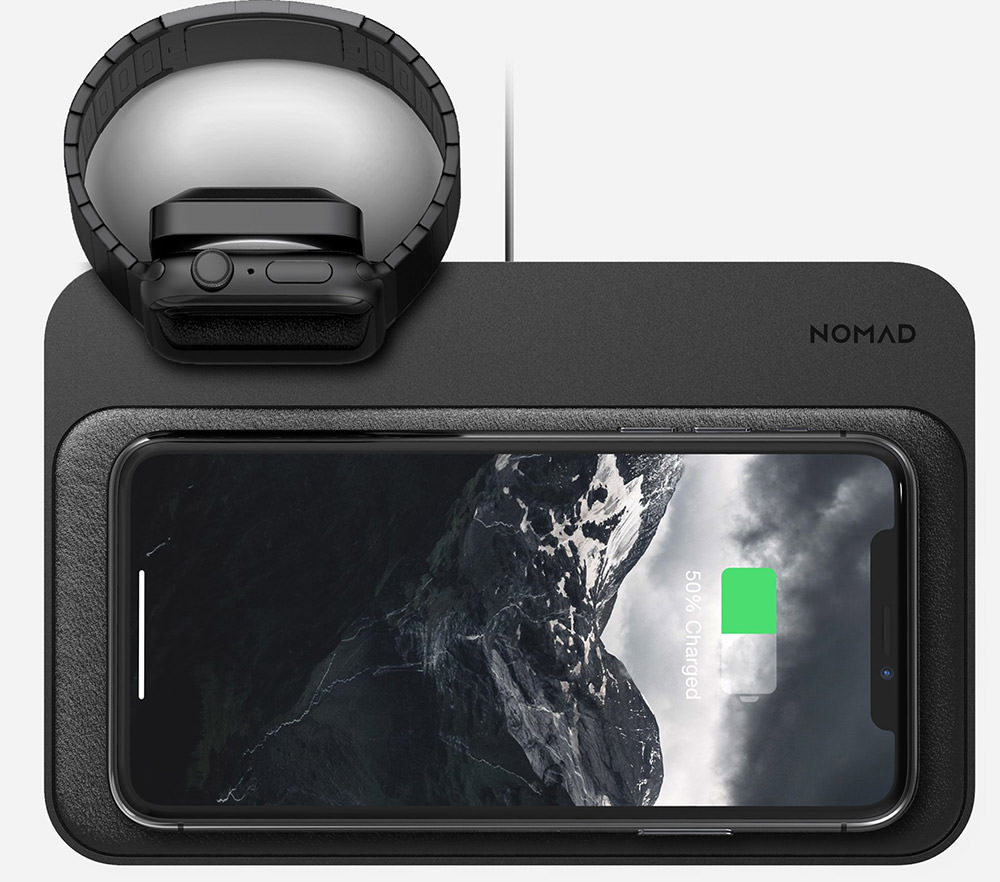 Nomad Base Station is a gorgeously designed charging station that can wirelessly charge your Apple Watch along with a pair of AirPods, and upto two iPhones. The base station has 3 Qi-certified coils and an Apple-certified integrated charging puck for your watch.
Nomad Base Station is beautifully designed with an anodized aluminum body and base pad made of executive leather. Also, there's an ambient light sensor on the back that'll automatically dim the LEDs in a dark. And lastly, there's a rubber bumper at the base of Apple Watch charger that prevents your Apple Watch from hitting the anodized aluminum panel. How cool is that!
Pros
Wirelessly charges Apple Watch, iPhone, and AirPods.
Padded leather wireless charging surface.
Cons
Comes with charging adapter instead of USB-C.
Apple Watch charges in Nightmode only.
Colors: Maple, Walnut, Cherry wood, and white Glacier Corian.
Material: Wood or Corian®.
Price: £89.99
A beautiful and multi-functional charging dock plus watch strap holder, Anden Watch Valet is hand-made with different fisnishes of wood or Corian®. Each piece is carefully crafted by master cabinet maker Gavin Coyle from wood that comes from sustainable sources and finished with natural oils.
The best thing about Anden Watch Valet is that it has four grooves to store your spare Apple Watch bands. It doesn't come with a built-in charger and you set your own cable's charging puck in the precision-cut opening. The dock is pre-ordered in the finishing of your choice and it takes a couple of weeks in completion and shipping.
Pros
Four grooves for spare watch bands.
Hand-made with sustainable materials.
Cons
Watch can easily slip off the charger.
No Nightstand mode charging option.
Colors: White.
Material: Plastic.
Price: $19.99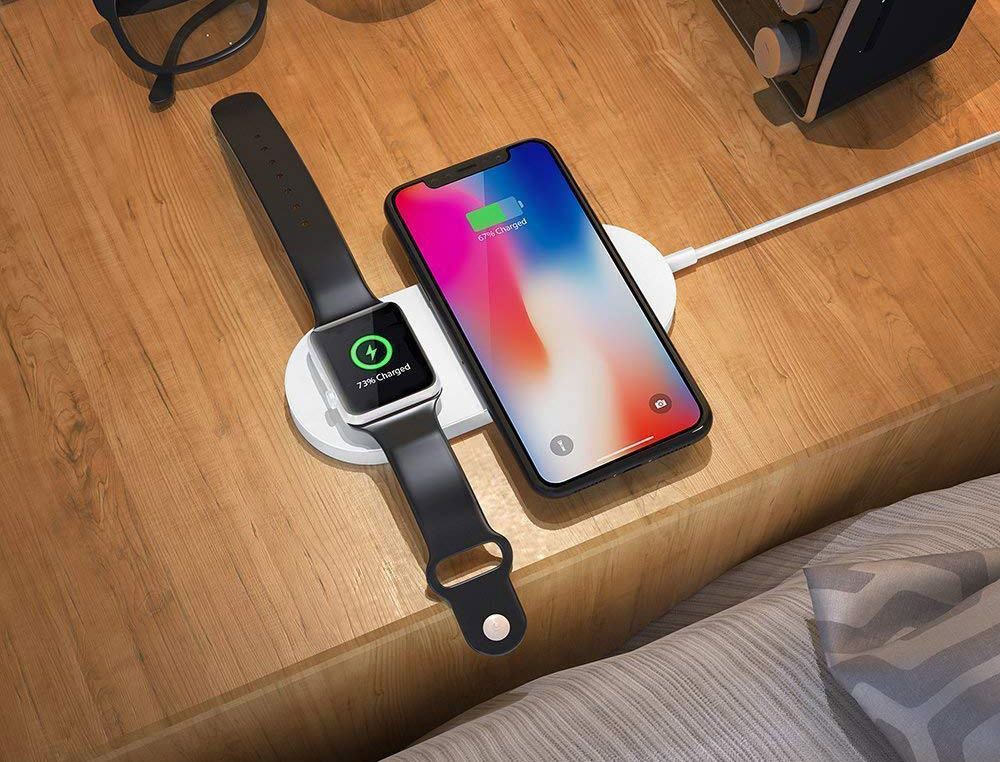 ATETION Wireless Charger is a dual charging unit that can charge your Apple Watch and one qi-enabled device at the same time. You can attach your watch with a vertical charging puck and place your iPhone/ Samsung Galaxy phone or tablet on the charging bed.
The charging pad is convenient and light-weight to be easily carried in a bag. There's however, no USB adapter included and it's recommended that you don't use Apple original adapter with it. Instead, a QC2.0 and QC3.0 charger adapter would be suitable for fast charging.
Pros
Economical.
Charges Apple Watch and one Qi-enabled device simultaneously.
Cons
Doesn't work with Apple iWatch series 1.
Doesn't include USB wall adapter.
Colors: White.
Material: PC+ABS
Price: $39.99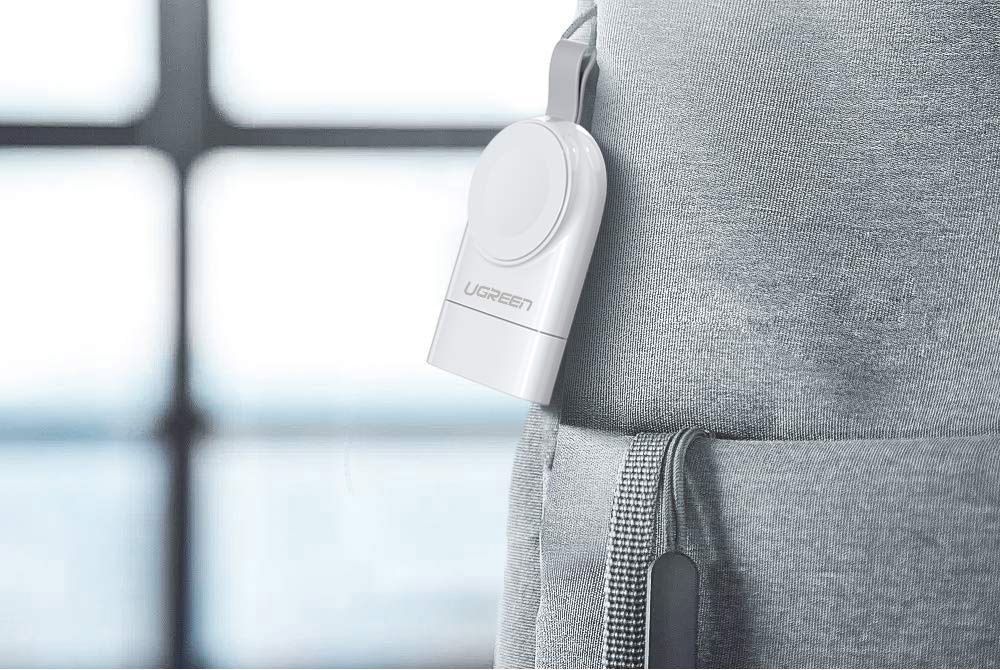 The tiniest and most portable charger in our list, the UGREEN Watch Charger is small enough to fit on a keychain and weights only 33g (almost weightless). You can easily attach it to a wall adapter, Apple charging cube or your laptop's USB port and it'll fully charge your watch within 2 hours.
The thing I loved about this tiny charger is that it has lanyard design so you can hang it on your bag. The outer shell is made of PC+ABS material along with multiple protections against over-heating, voltage, and short circuit. Additionally, there's an anti-slip component to keep your watch in place when charging in the Nightstand mode.
Pros
Built-in MFI certified charger.
Cable-free charging.
Cons
No power bank included.
Doesn't go with Macbook models that don't have USB port.
Colors: White and Black.
Material: ABS Plastic
Price: $22.98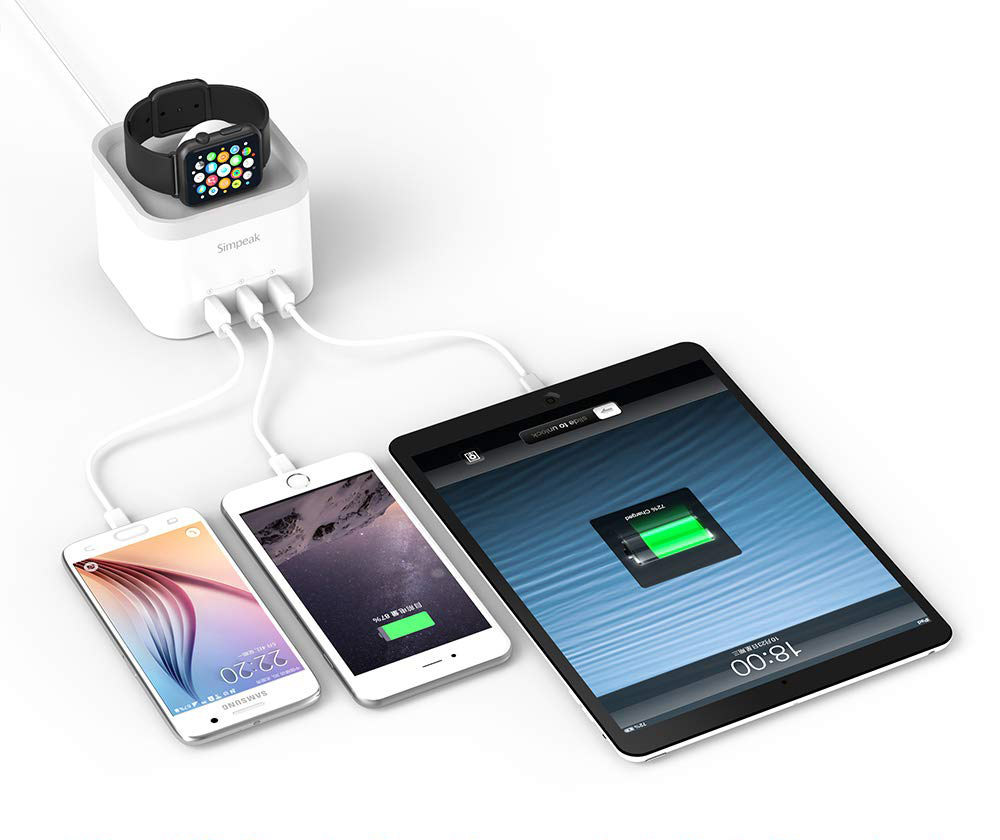 Simpeak Charger Stand is a multifunction charging box that keeps your bedside table tidy of wires and chords. It comes with 4 USB ports through which you can charge multiple mobile devices (including the Apple Watch) simultaneously. There is also an organizing space inside the box to store the extra charging cable.
The stand comes with built-in smart chips so each port automatically detects your device and delivers fastest charge as required. It charges your Apple Watch in the Nightstand mode and has a blue LED light that lights up to show that it's connected, though some people find its brightness a bit annoying.
Pros
Charges up to 4 mobile devices simultaneously.
Great cable management.
Cons
Phone stand isn't stable enough.
Doesn't go with other MiFi-certified charging pucks.
Colors: Black and Gold.
Material: Plastic.
Price: $38.99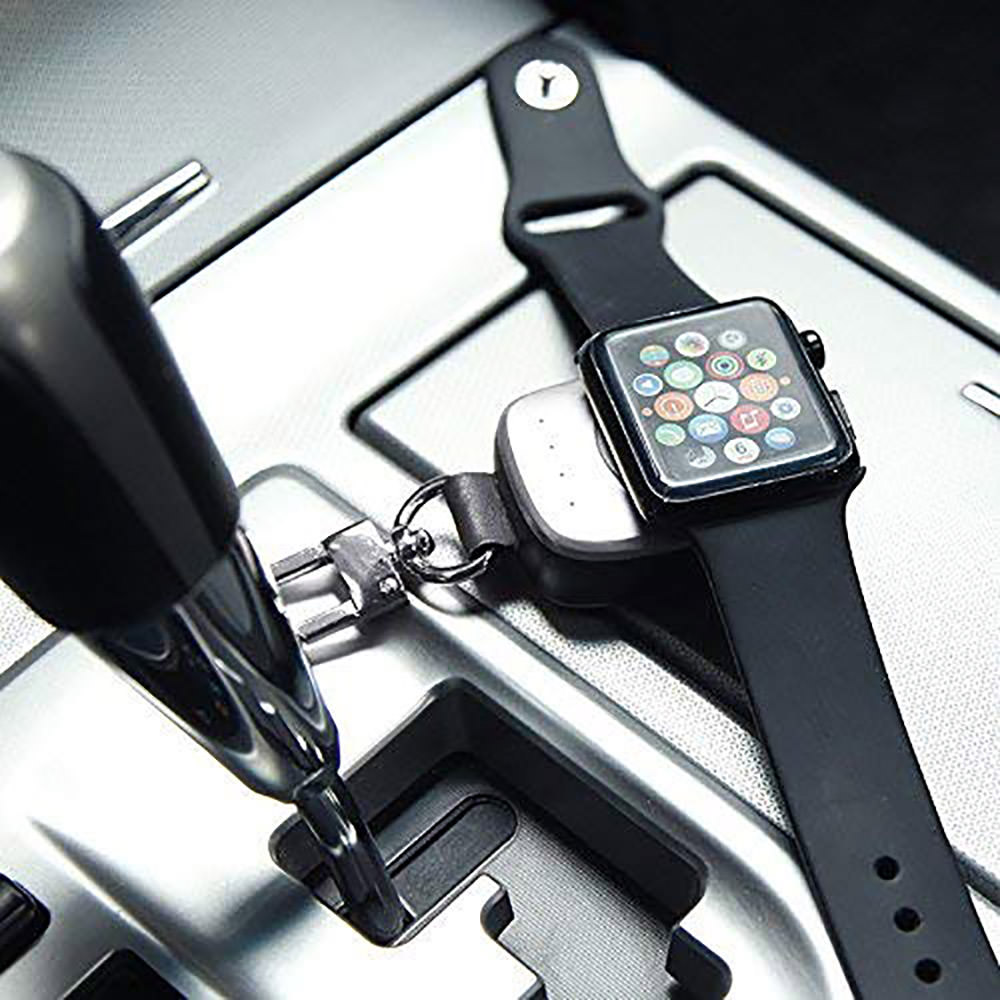 As the name says, Pantheon Portable Charger is a key-chain designed charger that can either be attached to a power source or work as a power bank for your Apple Watch. The charger has a built-in 700 mAh lithium-ion battery that holds up to 2 full charges for Apple Watch series 2 and 3, however it doesn't work with series 4 watches.
This tiny portable charger is Apple-certified and has really small LED power indicator lights. The best part is their offer that lands you a nice USB cable along with the charger. There's also an 18-month money-back/ product replacement guarantee. All in all, it can be a great alternative to an extra charging cable for your Apple Watch.
Pros
Super portable and convenient.
Special offer additional USB cable.
Cons
Slow charging.
Doesn't work with Apple Watch series 4.
Colors: Grey, Silver, and Rose Gold.
Material: GB aluminum
Price: $15.99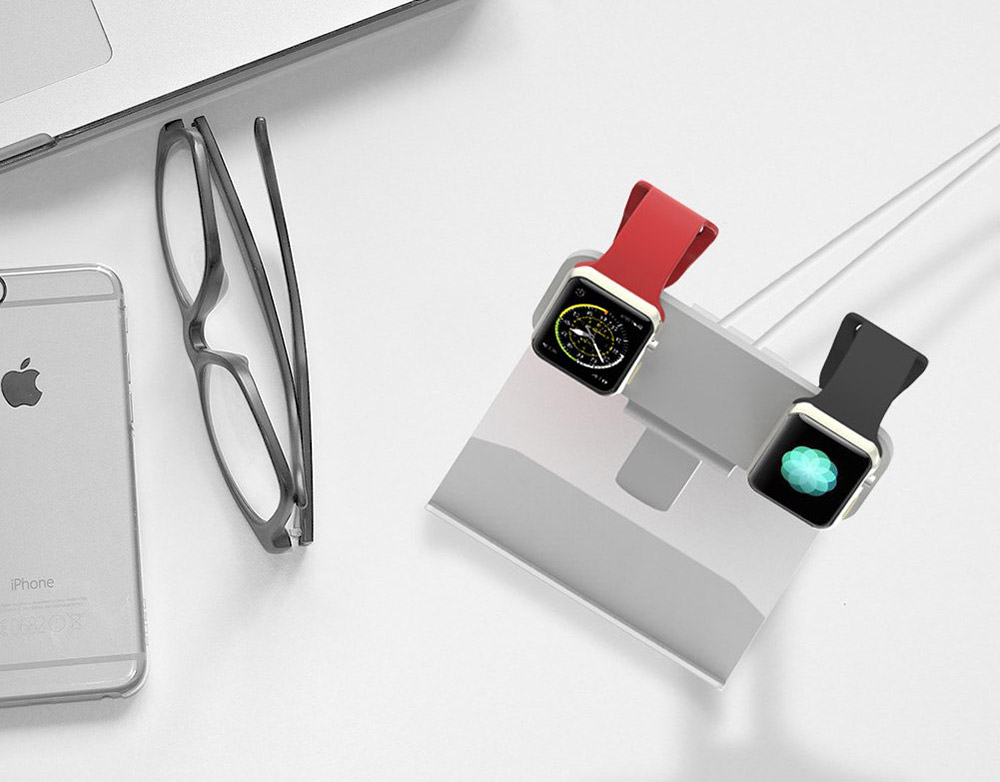 Last in our list, here is dual head charging stand by ATOPHK that can hold two Apple Watches for charging and one phone for viewing. The stand is made of solid GB aluminum which (as claimed by the manufacturer) has gone through 9 specialized processes.
The charging stand comes assembled right out of the box. The Apple Watch charging puck fits perfectly the circular cutout equipped with scratch-free TPU. On top of that, it offers just the right height and a perfect angle of viewing for both watches and the phone.
Pros
Super affordable.
Charges two Apple Watches at the same time.
Cons
Poor cable management.
Not sturdy enough.
The post 20 Best Apple Watch Docks to Buy (2019) appeared first on Hongkiat.
WordPress Website Development